***Be sure to check out NutellaDay.com for the most up-to-date info!***
It's finally here!
Twenty-four hours dedicated to honoring and enjoying the chocolaty hazelnut spread that warms our hearts and souls!
As you can see from the title of the post, this is Part 2 of the round-up, so head to Sara's Ms. Adventures in Italy for Part I. All entries will also be listed at NutellaDay.com.
Also check out all the fabulous photos in the Nutella Day Flickr Pool. Haven't added your photo yet? Go right ahead!
Sara and I have also decided that we'd each choose a "World Nutella Day Co-Host's Pick" from each of our round-ups, and those chosen would receive two bars of Fair Trade chocolate from Modica, Sicily.
I'll start with my pick:
Paola of In My Life combined one of my favorite desserts, cinnamon buns, with Nutella–and just look at those results. Indeed, these Nutty Nutella Buns with Tia Maria Glaze spoke so loudly to me I just had to award it my World Nutella Day Co-Host Pick.
Congratulations Paola!
Now before I get to more delicious Nutella creations, we had two entries that waxed poetic about Nutella:
(1) La Casalinga talks about how her midwestern American family fell in love with Nutella in In Honor of World Nutella Day; and
(2) TACE of All Kinds of Stuff wrote a tale about a "young woman lost her Nutella innocence in the parking lot of a Trader Joe's" in Why Some People Can't Have Nutella. You *know* you want to read that.
Now, back to the recipes:

Remember the Banana & Nutella cake I made last week? You can find the recipe here at Bleeding Espresso but you won't find even a crumb of the cake anymore, which means it's time for more Nutella recipes. Good thing we happen to have some handy.
Carrie of Carrie's Cooking Adventures whipped up Butternut Squash Ravioli with Nutella Sauce with some help from Mom. I know that feeling–moms are the best! Especially when they're bearing Nutella ideas!

These fabulous Chocolate Chip-Nutella Cookies come from Beatriz and her son Nicolas over at Suitcase Contents. Nicolas had previously come up with Crepes with Nutella and Banana, and I asked if he wouldn't mind coming up with something for World Nutella Day. Boy did he deliver!
Amanda of Slow Like Honey created these decadent Almond Nutella Cookie Sandwiches. I love the mixing of the nutty flavors here, and Amanda wasn't kidding when she titled her post "Nectar of the Gods."
Check out this double dose of Nutella goodness from Marie at Marie Muses. She offers great, easy recipes for Nutella Sandwich Cookies paired with Nutella hot chocolate. Great for a cold winter day!

In creating her recipe for Hazelnut Nutella Pound Cake, Daphne of More than Words wanted to let Nutella shine and keep the rest simple. From the looks of her photos, it certainly looks like she succeeded. Looks great!

Sarah of What Smells So Good? offers up a recipe for Nutella Fibre Bread as well as one for Hazelnut-Espresso Frosting. You know I'm all over that espresso part!
Jennifer of Bake or Break combined brown sugar, toasted hazelnuts, and Nutella to come up with Hazelnut Blondies. Just look at that gorgeous dollop of the good stuff on top!

Robin of My Melange contributes Nutella French Toast–a delicious combination of eggs, bread, honey, Grand Marnier, Nutella and more. Seriously sinful.

Eryn of Cappuccino Chit-Chat made this Nutella Trifle to help cheer on her beloved New York Giants in the Super Bowl–and it worked! Do I sense a new tradition?

Annemarie of Ambrosia and Nectar made Chocolate and Hazelnut Ravioli with a Chocolate Raspberry Sauce without even knowing about World Nutella Day–she must've smelled all the Nutella in the air!
My fellow American in Calabria Cherrye of My Bella Vita whipped up, quite literally, this Nutella Chocolate Chunk Mousse. Looks great but as I asked Cherrye, why aren't they served in the handy dandy Nutella drinking glasses?!
I never thought I'd see the day when babka met Nutella but Jessica Su of Su Good Sweets has done it. And look at those results! If I had anything to do with it, Nutella Babka would be in bakeries everywhere.
Meredith of Poppy Fields laments the fact that her girls won't even give American peanut butter a try–they're hooked on Nutella! Check out Meredith's Nutella Sandwiches.
Erin of The Olive Notes came through in a big way with her Italian Nutella Toasts with Pear Compote, showing, "No oven? No problem!" And the pears make it healthy, right?
Christina of Artichoke Heart contributes this Nutella and Banana Whole Wheat Pizza, again combining some of my favorite things. Check out another version at NYC/Caribbean Ragazza's place where she has Banana and Nutella Dessert Pizza.
Jenn of The Leftover Queen took some inspiration from our friend Gina DePalma's Dolce Italiano and came up with Nutella-Date Pudding Cupcakes. Don't go over there hungry. Consider yourself warned.
Jill of Simple Daily Recipes shares her family's favorite way to enjoy Nutella in what she calls "American + Italian = Pure Love." Yes that's peanut butter in there folks.

Jen of A2eatwrite created Nutella Cheesecake Cupcakes using just a handful of ingredients including chocolate wafers to line the bottom of the cups for a crust, and adds that ricotta can be used as a substitute for the neufchatel cream cheese in the recipe.
Angie Musci of Taralucci e . . . is a self-proclaimed Nutella purist and says "panennutella, forever and ever! " which, of course, means Nutella on bread–homemade bread if possible, and Angie promises to let us in on how to make it soon (in Italian).
Stacy of Texas Espresso found a 3-ingredient recipe and ran with it to make these Nutella Sandwich Cookies–pay special attention to Stacy's flour warning! I'm loving all these sandwiches!
If there were a prize for most international recipe, Ricky of Blog001 would probably win it for his Mexican Nutella Crepe. It's Mexican! It's Italian! It's French! It's delicious.

Another great recipe with international flair comes from Wandering Chopsticks with Chocolate Mochi with Nutella Filling. Just look at that Nutella all happy inside the chocolate Japanese sticky rice cakes! Yum!

This is a photo of one of the ingredients of the "Kind of Tiramisu style cake to make with the kids and a HUGE jar of Nutella" submitted by Laure of Food like when I was little. From the sound of this so-called "Cake With No Name" you're going to want to try it out and get your own photo.
Linda of make life sweeter! is clearly a girl after my own heart. She shares a recipe for Nutella Espresso; like me, she doesn't have a fancy machine, but I'm betting the stovetop version does just fine. And I will soon know firsthand.
And here is a treat from Peter of Kalofagas – Pursuit of Delicious Foods. It's made with Nutella's sister spread in Greece called Merenda–a grilled Merenda sandwich that can easily be made with Nutella. Thanks for playing even without Nutella Peter!
And last but certainly not least, a fabulous photo of the Nutelleria in Bologna sent to us from Neil Recommended: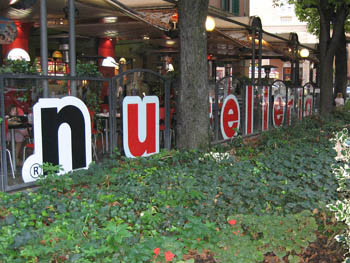 Buon World Nutella Day 2008!
Thanks so much to everyone who sent in entries–you've made this a very special World Nutella Day for everyone. Also, a special thanks to Sara for inviting me to participate as a co-host this year in light of our amica Shelley's blogging hiatus. Ciao Shelley! You're here in spirit!
P.S. If you're in America and in a Super Tuesday state *or* registered through Democrats Abroad, VOTE!
P.P.S. And if you're one of my paesani from the Coal Region, Happy Donut Day (Happy Shrove/Fat Tuesday/Mardi Gras/Pancake Day to the rest of you)!
Whew! What a day!
————–
[tags] world nutella day, nutella day, nutella[/tags]
52 Beans of Wisdom to "World Nutella Day 2008 – Round-up Part 2"
---