I'd love to give you a great recipe for today's What's Cooking Wednesday, but although my traveling buddy Cherrye and I are physically back from our Sicilian adventure, my mind, heart, and stomach are still in Palermo: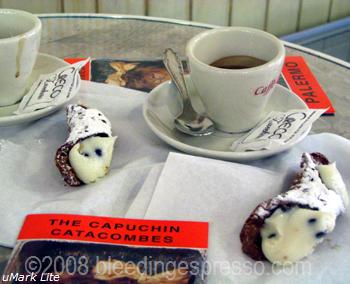 We took the cannoli. Get it?
And in case you wondered, no, you have not eaten cannoli until you've had cannoli in Sicily. They shouldn't even be allowed to be called cannoli anywhere else. Seriously.
More details soon.
35 Beans of Wisdom to ""We Took the Cannoli": Trip to Messina, Savoca, Tindari, and Palermo, Sicily"
---