To be perfectly honest, the only thing cooking around here these days is me—as in, I think I can identify with a roasted chicken just a bit more. The temps have been in the 100s (40+ degrees Celsius) for a couple days, so there hasn't been much going on at the stove or, heaven help us, in the oven.
We've subsisted on simple salads, other quick pasta dishes, and some cold meats and cheeses and fresh bread.
Oh, and the granita (grah-NEE-tah).
What's that you ask? If any of you are familiar with what I've heard called shaved ice, Italian water ice, Italian ice, or (for you Philly folks especially) Rita's water ice, that's basically it, or at least they're all cugini.
For anyone unfamiliar, granita is basically a slushy, flavored ice (some are even more like sorbet), and it's a staple in Italy in the summer.
I've seen it credited to Sicily and even Spain, but in the honor of good summer fun, let's just agree that it's darn good and move on, shall we?
Shelley has written about granita and also another related treat, grattachecca, in Rome and Sara can tell you how to make it watermelon-flavored (my favorite growing up), but, in keeping with the theme of this here blog thingee, today's What's Cooking Wednesday is…granita al caffè, or coffee granita.
I love it so much it just may be replacing my iced coffee as my morning brew these days when you just have to, in the words of my late grandmother's favorite TV chef, kick it up a notch. You may be thinking, "Isn't that kind of like ice cream for breakfast?"
And I'm thinking, "Isn't it great to be an adult sometimes?"
Granita al Caffè
2 cups water
½ cup sugar
1 cup very strong espresso, cooled
Heat water and sugar over low heat until the sugar melts. Bring to a boil, and then remove from heat and allow to cool.
Mix in coffee, put everything in shallow container and into the freezer. I use muffin pans (the 6-muffin type) because then I can make individual servings.
When the mixture is mostly frozen, take it out and you're ready to smash it up. If it won't budge from the pan, give the bottom a dunk in hot water and flip it.
Now, you can use a food processor, but if it's really hot like it is here, it'll all melt before you know it and you'll be back to square one. If you're set on using the food processor, make sure everything is frozen solid, then cut the mixture into chunks and do it that way.
Me? This time I just mashed it up with a spoon. As you can see from the photo, I left the chunks larger than usual to compensate for the heat, and now I think I actually like it better this way. The food processor will get it smoother, of course, and more traditional granita-fied.
******************************
Update!
Since the weather cooled off a bit today (a real breeze!), I was able to do a more slushy thing. I didn't bother with the food processor though–just used the edge of a big metal spoon.
The view, I'm sure, looks familiar by now, so look at that coffee granita!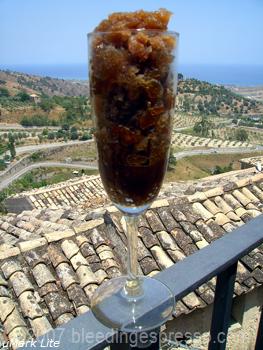 ******************************
Some notes:
All measurements are in the "American" cups, so I'm not talking about just a tiny cup of espresso here.
You can top this with whipped cream for a special treat, but around here people look at you funny if you have dairy products when it's warm.
Speaking of flavors, you can easily do a lemon granita from this basic recipe substituting the juice of two large lemons and the zest of one lemon in place of the coffee.
Now raise your granita and let's salute:
To the summer!
51 Beans of Wisdom to "What's Cooking Wednesday: Coffee Granita"
---