OK, let's try this again.
I depressed even myself with the last post, but since then, I figured out why I couldn't see my squares. Something to do with needing RPG coding to agree with Firefox (I sound at least a bit tech savvy, don't I?). While I was in there fooling with my template, I decided to play around with my squares too.
So did anyone happen to notice that my squares are now textured?
And an added bonus! I'm going to try to make the best of a slow connection…and make it earn its keep by posting my darn pics. I've already been waiting for about an hour for these babies to get into Photobucket, but I've been keeping busy doing other things–like preparing for some sort of oral exam tomorrow for a translating/interpreting job.
Why yes, I do feel awful. And yes, I did call to tell the interviewers that. They don't care. In their defense, it's a job with a governmental branch, so this is like a pool of candidates sort of thing. I didn't think they'd reschedule the whole shebang just for me, but it was worth a try.
But more on that tomorrow after I accidentally infect the interviewers at the health agency.
And, by the way, it's now hailing outside. Yippee!
Now I present to you the last few hours of 2006 spent eating, drinking, and laughing in a hole in a medieval village in Italy. One of P's friends used to have an enoteca (wine bar/shop) below one of the town's bars, but now he just uses it for get-togethers like the one we had the other night.
I *love* the atmosphere here–it's underground and yet so warm from the textured yellow walls and earthy accents. Don't mind the "Terranova" bag, though. I didn't think it was appropriate to ask the hostess to move it just for a picture (even if it was to be seen on the Internet).

To kick off the evening, a toast among the boys;
I've never seen an Italian woman join in these things.
Luckily I'm not really Italian.
Salute!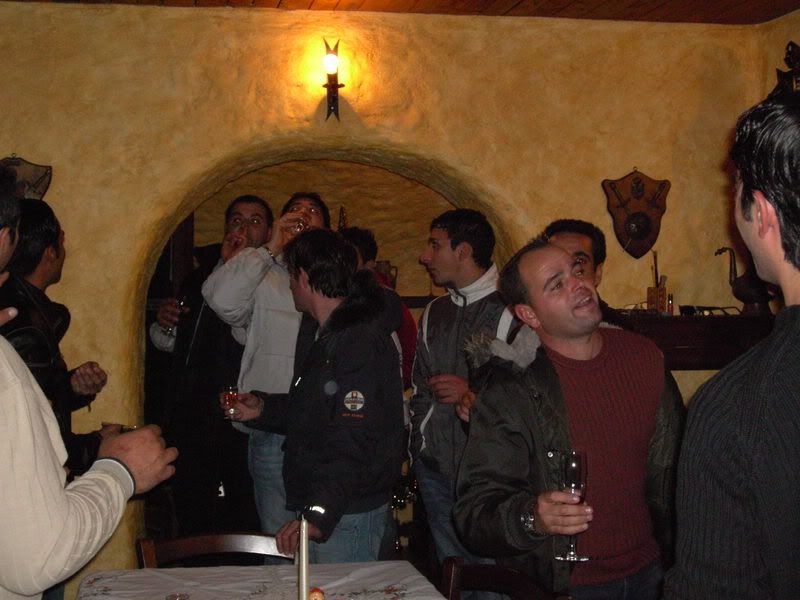 Then most of these boys left and it was just close friends and family around the table.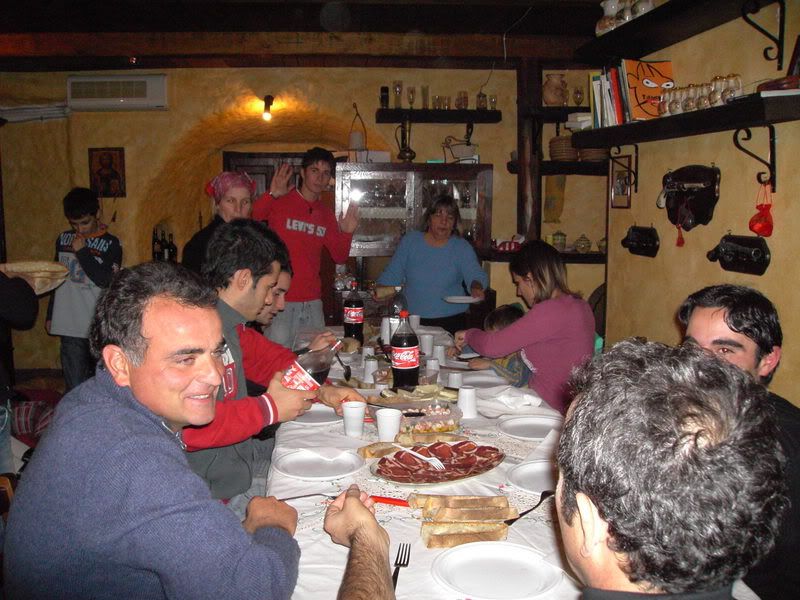 You can tell it's early because there's not even wine on the table.
But it arrived soon enough.
As did the antipasto:
tuna caught by Mario (guy in the blue sweater above on the left);
fresh pecorino cheese;
capicollo;
and, my favorite as you can tell from the portion size,
octopus salad.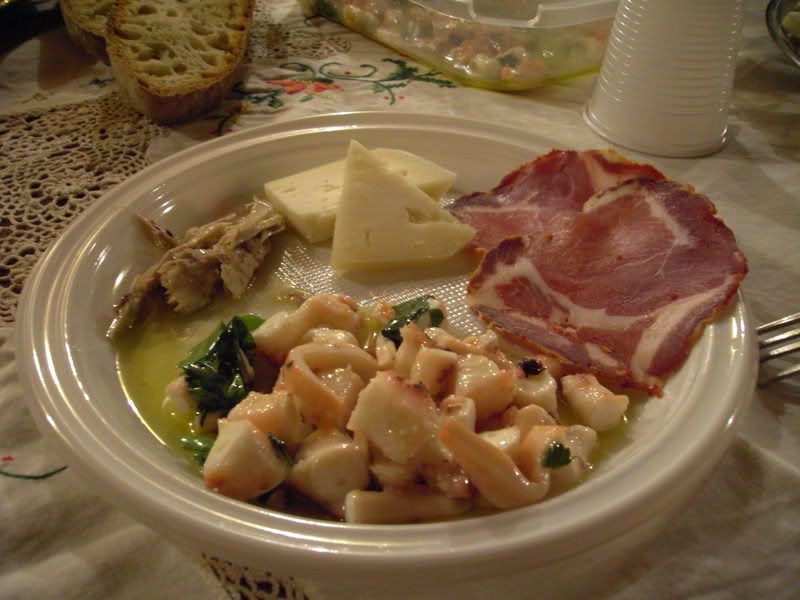 And il vino flowed.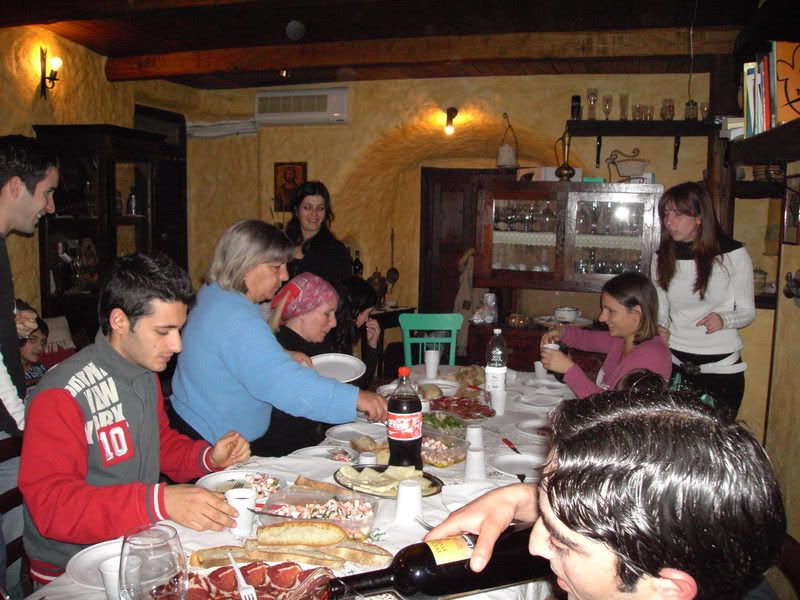 Then came the first dish–baked, stuffed cannelloni and shells.
And finally the traditional New Year's Eve good luck dish–cotechino and lentils.
Please don't ask what the cotechino is made of.
Then I'd be forced to look it up, and I know I don't really want to know what I ingested.
Just know that I immediately felt the "luck" coming on.

Um, then a couple hours later, it was midnight.
Buon 2007!
And that's all you're going to get photographic evidence of.
—————
[tags]new year's eve, calabria, cotechino, lentils [/tags]
14 Beans of Wisdom to "Happy New Year! Buon Anno!"
---