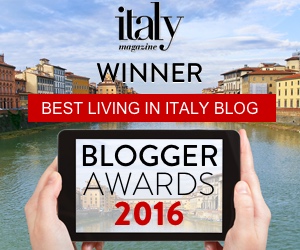 Yesterday I received word that Bleeding Espresso has been named the Best Living in Italy Blog in the ITALY Magazine Blogger Awards.
Ce l'abbiamo fatta! We did it!
Grazie mille to ITALY Magazine and to everyone who voted for Bleeding Espresso, and now please forgive my Sally Field "You really like me!" moment but here we go:
I started this blog on a whim in 2006, three years after I moved to Calabria. During the early years, I didn't have Internet in my house as I couldn't afford it, and anyway it wasn't very common around here back then. In the village, only the tobacco store and a real estate agency had it, so I would mostly write offline and often travel a half hour by bus to send off writing assignments at an Internet cafe.
I also walked uphill in snow both ways, but that's a story for another day.
Then I got Internet in the house and I began reading a few Italy blogs and wanted in. I knew less than nothing about HTML or coding and such, so I started on Blogger with an insanely long Blogspot URL because someone had already claimed Bleeding Espresso (though they never did anything with it, apparently). And I wrote anonymously, going only by "sognatrice," which means "dreamer."
I never could have dreamed, though, that doodles on a notepad regarding a blog name, tagline, and potential topics could have turned into the wonderful, worldwide community it has ten years later.
Over these years, I've told you lots about my life in Badolato and how living in my ancestors' village has changed my life. I've also shared my story about acquiring Italian citizenship jure sanguinis — and many, many of you have communicated with me privately regarding your quest.
We have shared Calabrian Christmas traditions in our families, tales of malocchio, recipes (especially on Wednesdays!), and book recommendations. We have discussed hot topics like the Amanda Knox trial and whether or not to give children wine. We have laughed over how you know you're in Italy and the top 5 Italian words you don't want to mispronounce.
And Nutella. Oh, was there ever Nutella.
This past year, I finally published a book about my adopted region — 52 Things to See & Do in Calabria — and your support has been unwavering and simply amazing.
As my freelance writing and editing career grew and then especially after I had my daughter, my blog writing has gotten more infrequent, but you've stuck with me — even as attention spans fade and Italy-based blogs and websites abound, competing for your attention.
You still come, virtually, to my little corner of the toe of the boot, to a medieval village in the rural south where most of you have never been and may never visit.
I don't have Rome, Florence, Venice, or Tuscany to entice you, yet you come.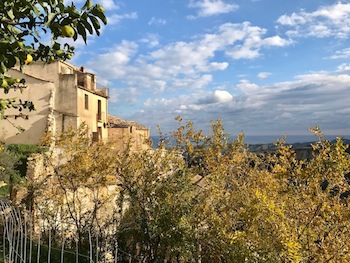 You have been coming for ten years and now you have rewarded me with your votes for ITALY Magazine's Best Living in Italy Blog — and I couldn't be more proud or humbled by this.
So thank you, from the bottom of my heart as I type from the toe of the boot, for sharing this space with me and for contributing your stories, experiences, and opinions to enrich this community. You have provided me incredible support and love in ways you will never know. Many of you have become among my most cherished friends. You know who you are, and you ground me. Thank you.
I'm sorry that one particular reader-turned-cherished-friend is not here to celebrate this award with me, however. We never met in person, but he always had a kind comment or a funny email forward at the ready and would've voted the crap out of this contest — not just for me but for all his favorite Italy bloggers. Unfortunately, the world lost his generous spirit in 2016. I know he would've been just as proud of this award as if he were my own father.
Love and miss you, Gil. I hope you're enjoying a sfogliatelle somewhere.
I have exciting things planned for Bleeding Espresso for 2017, and I look forward to revealing them, time-permitting, throughout the winter and spring.
I still have to post my One-Word Theme for 2017, too, so put your thinking caps on and be ready to share yours as well, please.
So grazie mille, again, for your votes, yes, but more importantly, for choosing to spend precious moments of your time with me.
And a special thank you to ITALY Magazine for reminding me how much I love and appreciate this space and the people in it.
Buon anno a tutti!
18 Beans of Wisdom to "Best Living in Italy Blog 2016 – Grazie Mille!"
---