Moving to Italy? Awesome!
Rural Italy? Let's talk.
No matter where you land in Italia, there will be new, let's call them "experiences." Some are universal like dealing with Telecom or ENEL (even Italians hate these interactions) or handling other bureaucracy such as getting your permesso di soggiorno (stay permit).
And actually some of those things can be less stressful in rural areas because there are simply fewer people around to wait in line all the live-long day.
But the flip side is that there are some unique challenges to living in rural Italy you may not have heard about. And that's where this handy list comes in.
Disclaimer: I already know some expats in Italy will read this and think, "OMG where do you live, The Dark Side of the Moon, Calabria?" Well, yes, basically, so this is my experience and mine only. YMMV.
1. You'll lose your English.
No, you're not going to suddenly start babbling incoherently on Skype with your friends and family, but moving to rural Italy probably means you're going to be using and hearing your mother tongue a lot less often. And that, in turn, means you'll soon find yourself, when with English speakers, saying things like, "Oh you need to take that to the . . . um . . . crap, what's the word in English? It's lavanderia in Italian . . . "
Sure, this can happen to anyone who has moved to Italy, not just the rural parts, but the more remote your village, the faster this will occur. Do not be alarmed. It's entirely normal, though be forewarned: your most judgmental "friends" back home will probably just think you're being pretentious. Whatevs. The struggle is real.
2. You will become a morning person.
As a former night owl, this one is perhaps the most surprising (and disturbing), but it's inevitable if you live in an area of Italy where everything (and I mean EVERYTHING) closes between the hours of 12ish and 5ish.
If you're not up and out by ten a.m. or so, you're just not going to get your errands done, especially if the post office is involved because it doesn't even have afternoon hours. Doctors also seem to prefer la mattina, and you're likely to have an appointment at opening time just like everyone else–which means trying to arrive before the nonne. Good luck with that.
Yes, some things you can do in the evening, but anything remotely bureaucratic is almost exclusively scheduled for morning. Of course now I have a toddler, so that's a whole other "morning person" issue, but I'm talking pre-Baby Espresso.
3. Your life will revolve around food.
Everyone knows that Italians love food, but it's hard to overstate how much of your time will be spent thinking about food, especially figuring out what you will eat at the next meal — or if it's a weekend, what you will eat for the next couple days.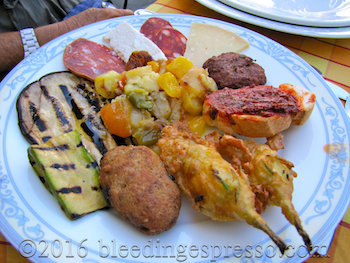 This is for several reasons. For one, in rural Italy, fast food can be quite a distance away (and often not worth the effort). Also, most food is bought fresh or at least within a few days of when you want to use it. Preservatives aren't nearly as common in everyday food here, and people don't tend to buy in bulk unless you're talking cans of tomatoes or pasta or the like. Storage space tends to be sparse.
So all of this means you're usually buying what you will eat within a few days of consuming it. No lunchmeat that sits in your fridge for two weeks, and bread? Yeah, that starts to go downhill before you even get it home.
Throw in the aforementioned limited store hours, including many options being closed on Sundays, and well, you're thinking about what food you need in your house ahead of time. And that leads to a near constant obsession of what you'll be eating in the near future. I'm planning dinner tomorrow as I type this.
I should add that although you might find yourself with an empty fridge on occasion, the huge upside to this is that you will likely be eating better quality food than you used to — possibly only because you have to — but still, win.
4. You will miss the weirdest things at the weirdest times.
Anyone moving to rural Italy knows very well that the ethnic food scene is lacking (and by lacking I mean non-existent). Sometimes you can find similar ingredients and make passable substitutes, but many expats in rural Italy end up saying arrivederci to restaurant sushi, Thai food, guacamole . . . .
Moment of silence, please.
We know this, and we deal. But what I didn't realize was that I was going to miss being able to, say, put on a silly morning talk show like "Ellen" and go about my business. I work from home and sometimes you just want that background noise to be familiar voices in your native language. Sure, you can put on a YouTube video, but it's not the same.
Other things I missed that I hadn't anticipated: big bookstores with built-in coffee shops and couches; libraries; some flat terrain for biking, running, walking (I live in a hill town — it's ALL hills!); the ability to stop somewhere when dying of thirst in the summer and pick up a fountain drink with ice and a straw.
None of these "break" the expat experience per se, but they can make me oddly nostalgic when I least expect it — even after years abroad.
5. You will find out you're stronger than you ever imagined.
Moving to Italy, whether your new home area is rural or urban or anywhere in between, is hard, especially if you've done it alone but even if you have company. You will get lonely, you will get sad, you will wonder why the hell you have to make everything so freaking hard and wouldn't you just have found a way to be happy in your old life?
And then you will dig deep, deeper than you even knew was possible, and if your expat life is truly what you want, you will build it. From scratch, most likely. You will figure out how to make it work.
You will embrace your rural, crazy, nosy Italian community and enjoy the silence, simplicity, and calm it provides.
You'll still feel sad and lonely and such from time to time — sorry, no magic cure for being human — but you'll also know you are strong enough to do pretty much anything you set you mind to.
Even if you still hate going to the post office and would give up your What's App for sushi.
*
Check out the other Italy Blogging Roundtable posts on the topic FIVE in honor of the group's five-year anniversary this month. Auguri Roundtable!
22 Beans of Wisdom to "5 Things No One Told You About Moving to Rural Italy"
---