Many years ago, back when the Italian expat blogging world was much smaller, I had the great pleasure of being virtually introduced to Gina DePalma, then the head pastry chef at Mario Batali's Babbo restaurant in New York City. Gina had a cookbook coming out (Dolce Italiano: Desserts from the Babbo Kitchen) and I jumped at the chance to help in promoting it.
You can find Gina's Ricotta Pound Cake and Sweet Apple Omelet recipes at Bleeding Espresso as well as links to more recipes within those posts.
Gina and I became fast email friends, bonding over many things from our love of baking to our shared Calabrian heritage — Gina's mother was born in Calabria. Her diagnosis of ovarian cancer came about a year after that in 2008, and our emails were less frequent as Gina went through various treatments interspersed with brief periods of remission, but Gina's messages were always full of love, wit, and hope.
From the time we met, Gina always held a special place in my heart, and she always will. She was generous to an extreme degree, offering others whatever she could from love and food to baking tips and, generally, loads of inspiration. I am so grateful to have spent even a brief time in person with her in the magical Christmas atmosphere of New York City in 2009.
Gina passed away at the end of December 2015, and many who knew her have been baking to honor her memory.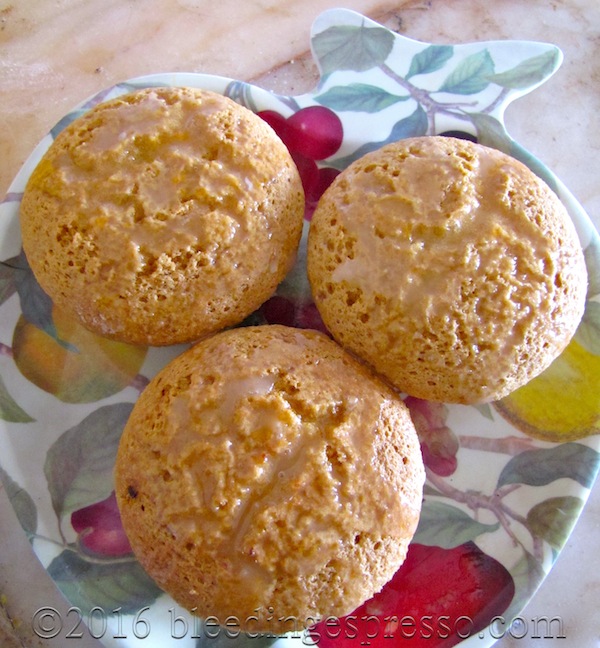 The basic recipe is on the Babbo website, but an expanded version with a citrus glaze is in Dolce Italiano (and you can also see it at The Amateur Gourmet).
I made a few adjustments that you may or may not find helpful (I think Gina would approve!):
I read online that some who made this recipe found it a bit dry. While it's possible that the other bakers overcooked, I know my personal tastes, and they definitely lean toward the moist in cakes, so I experimented a bit. I used three eggs plus one yolk (instead of four full eggs) and also added about 1/4 cup of a mixture of clementine and lemon juice to the batter for more wetness as well as for a more citrus-y flavor. The batter, incidentally, was probably the prettiest and best smelling batter I've ever made. It was still fairly thick even with the added liquid.
I have no idea what happened to my springform pan so I made twelve muffins and a small, rectangular cake. The muffins also help with portion control in sampling the goods and are the perfect size for toddler hands.
I greased all the pans by brushing on olive oil and then flouring.
The muffins took 20 minutes to bake (two pans of six both in the oven at the same time) and the cake took 28ish minutes. It seems like this would be really easy to overbake, so do keep a close eye on it (without opening the oven before they're ready to come out if you can help it!).
I love this recipe and will definitely make it again and again. It's not too sweet and there's just something about the chewiness of the polenta that works perfectly. With the extra liquid I added, the citrus flavor was light but absolutely present.
Toddler-approved too!
I chose this recipe because I know Gina would love the fact that I actually had our very own "new" olive oil to make it with, and that the clementines and lemons I used came from our own trees. Gina was a big proponent of using the freshest, bestest ingredients and these are they, folks. These are they.
But I didn't realize how perfect my choice of this recipe was until I thought about how to describe the results:
Tiny bites of sunshine that are both gritty and intense but also somehow soft, cheery, and comforting.
This cake is so you, sweet Gina. So very, very you.
If you are also honoring Gina by baking one of her recipes, please let me know either through a comment or email or by posting it on the Bleeding Espresso Facebook page. I'd love to share it with other Bleeding Espresso readers.
Sending big, big hugs and a muffin to you, wherever you are, carissima.
8 Beans of Wisdom to "In Loving Memory of Gina DePalma: Citrus Olive Oil & Polenta Cake"
---