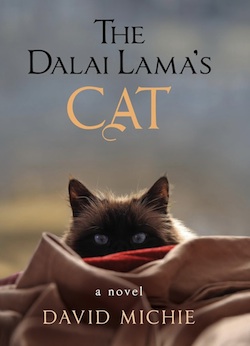 I normally don't include book reviews on the main page of Bleeding Espresso, but because I loved this book so much and because it does an amazing job of communicating principles such as mindfulness and living an authentic life, I just had to share it here as well.
Here's a taste of my review:
The Dalai Lama's Cat is written from the perspective of a (self-described) gorgeous Himalayan who was rescued by the Dalai Lama's staff and who spends copious amounts of time around His Holiness and those closest to him.
As you might imagine, "Bodhi catva" is privy to many spiritually intense conversations, and not only does she recount some the most important nuggets of Buddhism, she also applies the principles to her own life as she continues to strive to live up to her title of HHC (His Holiness's Cat). We also get a clue into the feline mind on issues such as playing the cello, "as we cats refer to that most delicate part of our grooming regimen when we attend to our nether regions."
Click to read the rest of my review of The Dalai Lama's Cat by David Michie, which I consider to be an absolute must-read of 2012.
22 Beans of Wisdom to "The Dalai Lama's Cat by David Michie"
---