As I sit on the balcony this early September evening, the tapping of the keys on my MacBook and a herd of goats off in the distance are the only sounds I hear. Nearly all of the tourists packed up their beach bags and umbrellas a week ago, giving us back our sparsely populated medieval village, oodles of parking spaces, and no lines at the two stores still operating up here.
Last Monday, I sipped my morning cappuccino at the bar, just the barista and me, during what a couple weeks prior had been "rush hour." How lovely to have a real, unrushed conversation again with the barista.
The village loves tourists, of course, for the business and life they bring, but for quiet, private people who don't work in the tourism industry like P and me, well, we're just as happy to get our daily routines back come September. It's kind of like having house guests—fun to have around for a while but then you just want your space to be all yours again.
What's that I hear? Nothing. Glorious.
Out on the balcony, my shoulders catch a chill for the first time in months as the sun disappears behind the mountains. Before I walk the dogs to close up the chickens for the night, I will wrap a light sweater around me. A sweater!
What a strange and wonderful feeling to have covered arms again.
This Calabrian summer has been long and excruciatingly hot. Summers are always long and hot here, forest fires nearly constantly raging, but this year we had weeks and weeks and weeks of temps in the high 90s, low 100s—and no air conditioning. I felt like my mind was functioning at about 80% during my best hours; the rest of the time, I was fried.
Everything, absolutely everything, seemed slow-going. Slow-going and sweaty. Very, very sweaty.
On our walk, I catch myself smiling up at the stars as the dogs lead me to the garden. I inhale deeply, allowing the clean, crisp air to linger and tingle in my nose. I cherish each and every step. Walks are again a simple pleasure instead of a dreaded chore.
I hold on to this moment, surrounded and enveloped by peace and calm and joy.
Certain stresses and worries have been lifted away with the oppressive heat. Our campagna has survived another season of rampant flames, and our animals thrived despite the heat; a few nests of healthy chicks even hatched in the coop.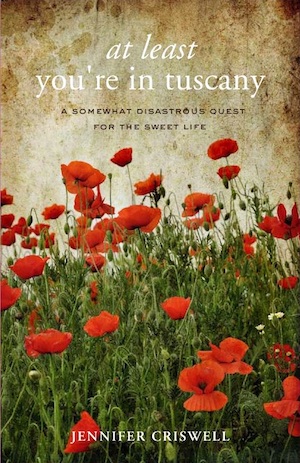 Despite feeling restless and sleepy and uncomfortable for months, I can look back on my summertime accomplishments and feel a sense of pride, having pushed through not only the heat but also more of life's little challenges that we never stop receiving:
I self-published an ebook for law school applicants; Gemelli Press is about to publish two books, a memoir called At Least You're in Tuscany by Jennifer Criswell and Diana Strinati Baur's debut novel, True Vines; my personal statement services client roster is growing; I've continued to put up regular posts for LegalZoom.com; and I've even been working on my novel. Oh, and I did stick to my promise to take weekends off. It was awesome.
Still, I'm really not sorry to see summer go. I just love the fall for that injection of new energy, a final push toward reaching any 2012 goals that haven't yet been achieved.
That back-to-school mentality never does seem to leave us, does it?
This will be my tenth autumn in Calabria so I know perfectly well that the hot weather isn't completely behind us; we'll probably still have at least one last burst of unbearable days mixed in with these more manageable but still-pretty-hot-if-you're-in-the-sun-temps. Nights, however, have turned the corner.
There's no denying fall is on its way.
The jarring of tomatoes and eggplants and peperoncini has begun and will continue for the next couple weeks. Figs and tomatoes are drying in the sun while pomegranates ripen and prickly pears stretch their summer out as long as they can. Those adorable little furry balls holding chestnuts are starting to appear in montagna, and with just a bit more rain, we'll be seeing porcini and other mushrooms sprouting up as well.
Soon enough, vendemmia, the grape harvest, will come and go. P and I are thinking about buying grapes or even il mosto this year to make wine for the first time; we don't have a vineyard, but P's father made wine for years and years, so all the equipment we need is in the cantina—and all the expertise is in P's and his dad's heads.
And then will come the olive harvest, my favorite time of year. Around here they say that with olives, it is "un anno sì, un anno no," which means you have a good harvesting year, followed by a not-so-good year. Last year was very good to us, so if this proverb holds true, this season we won't have much to pick, but we're still hoping to get enough for a pressing. There's just nothing like drizzling your own olive oil over toasted bread rubbed with garlic.
But all of that will come in due time.
This evening, here on the balcony, as I pull my sweater a little tighter around me and sip my chai, I'm totally in the here and now, and all I'm thinking about is whether it's time to put the flip flops aside for a pair of ballerina flats, for the evenings at least.
When my toes get chilly, there's no mistaking fall is coming.
Welcome back, dear friend.
57 Beans of Wisdom to "Arrivederci Summer, Bentornato Fall!"
---