I'm a lawyer by training and a writer by nature. Being able to pinpoint the perfect word has been a talent of mine dating at least back to my high school creative writing days when my teacher praised my "dime-sized portion" of shampoo I used to wash my dog and the squirrels "scurrying" away from danger. And it's one I've worked hard on honing over the years.
But then on the plane ride over the Atlantic, in just about eight or so hours, I lost all ability to express myself in even the most basic situations, not to mention my sense of humor—or at least the sense of humor that used to make sense to everyone around me. Gone were the word plays and subtle meanings behind jokes and the talent for diffusing tense situations with a wisecrack.
In other words, I lost a huge part of what I thought was my identity.
But I wasn't willing to let it go easily. So when I found myself getting a little too comfortable with basic words but still not really feeling part of things, I knew it was time to create a different Michelle here, one more aligned with the one I remembered from America.
Around that time Shelley of Un'Americana a Roma sent me a copy of L'Alchemista, the Italian translation of Paulo Coelho's The Alchemist. To that point I had never read an entire book in Italian.
And I knew it was time.
When you want something, all the universe conspires in helping you to achieve it. — Paulo Coelho, The Alchemist
I love this book not only for its message, but also because, even though I didn't realize it at the time, reading it proved to me just how much I wanted to let Italy seep into me, become a part of me, namely through its beautiful, lyrical language and how much I wanted to be a part of it.
By that point, I was able to communicate well enough on a daily basis and was getting by with basic verbs and tenses, but I knew there was still so much I was missing, including parts of myself still hidden from those around me. I'd see many a moment go by where I could have said something witty if only my Italian were better, where I became so frustrated trying to get a point across, I just gave up.
It was gut check time.
How bad did I want this life I said I wanted?
Enough to sit down every night with L'Alchemista for I don't know how many weeks, make notes of the words I didn't know, look them up and add them to my vocabulary list. Study them. Try to use them in everyday conversation. And then move on to another book—this time one in its original language by an Italian author. Io Non Ho Paura by Niccolò Ammaniti if you're interested. Highly recommended.
Lest you think this all happened within the first few months I moved here, let me be clear—this was *years* in the making.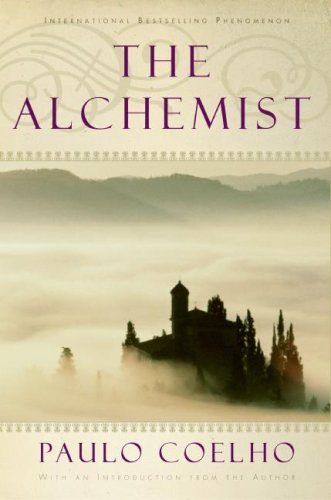 It wasn't until after I met Paolo (which was a year and a half after I arrived) and truly began throwing myself into colloquial conversations that I even considered reading an entire book in Italian. And I opened and closed quite a few before L'Alchemista came along. But when Coelho's book showed up in my hands, I knew it was time to push forward.
The right book at the right time snapped everything into focus for me, and there was nothing like the feeling of turning that final page and knowing I had done it, finished a book in Italian, and, more importantly, I was on my way to reclaiming myself in this foreign land.
*
No matter the goal you're pursuing, there will be times when things look bleak, when circumstances and maybe even people seem to be (or actually are) working against you–and the obstacles will likely be much greater than a measly language barrier. They may be physical, mental, emotional, and all of the above. You may hurt, wonder why you're doing what you're doing, get angry, get frustrated, cry. But you won't give up. Because that is gut check time.
Time to reach deep inside, grab who you know you truly are, pull out every bit of your drive and determination, and push forward.
You already know that nothing worth having or achieving comes easily, but how bad do you want whatever it is you say you want? What are you willing to do to make it happen? Are you willing to take risks, make sacrifices, look like a fool, make laughable mistakes that will actually serve as valuable learning experiences?
Are you willing to trust your own instincts, follow your truth, and most of all, reach inside, pull out your very core, everything that makes you who you are, and put it all out there on the line?
Are you ready for gut check time?
68 Beans of Wisdom to "Gut Check: How Bad Do You Want It?"
---