My one-word theme for 2012 is UP, and upwards we go, indeed . . . right into a new position as the Co-Managing Editor of Gemelli Press, LLC – Calabria location (press release).
Some of you may already know of Gemelli Press as I've reviewed a few of the company's books (Beyond the Pasta, Pieces of Someday, and Impariamo l'Italiano con l'Aiuto della Mano), but in case you don't, Gemelli Press is a boutique publishing company founded in Seattle in 2007 by Kari Hock, who lived in Sicily and fell in love with the bel paese. The company gets its name from Kari's adorable twin boys — "gemelli" is twins in Italian.
Gemelli Press focuses on Italy-themed fiction and nonfiction, combining twin passions for books and Italy, carefully selecting titles that will inspire readers to learn more about Italian culture, cuisine, wine, travel, and lifestyle.
On the last day of 2011, Kari asked me to join her. I thought about it for about five seconds before I jumped at the opportunity.
My love of books has fueled a desire to work in publishing for as long as I can remember. In college while pursuing an English degree, my graduation plans included finding an entry-level position at a New York City publishing house — but at that time, law school seemed the safer, smarter choice. Or at least the one more expected of me.
So my publishing house dreams fell by the wayside. I considered jumping in again after law school, this time into legal publishing, but I wanted to at least work in the law for a couple years first, which I did as an appellate law clerk. During my first summer at that job, I took a trip to Italy. As you may recall, I fell in love with this village on that vacation and moved here a year later. At that point, I stopped thinking of publishing altogether. Logistically, I just didn't see how it was possible.
But I stayed involved in the book world the only way I knew how — by continuing to read and later, by publishing book reviews here at my site . . . book reviews that almost got the ax. Some of you may remember when a few years ago, I asked for feedback on the parts of the site. The resounding answer was to drop the book reviews. But I love books, and I especially love sharing books I enjoy. Besides that, I figured, hey, this is the space I created to pursue my passions. Book reviews were here to stay.
And so they did. And that's how Kari and Gemelli Press found me — initially as a reviewer, then as an editor, and now as a partner.
Mai dire mai, as we say in Italy. Never say never.
Along with sharing editorial decisions with Kari, I'm now handling Gemelli Press's PR, marketing, social media, and web development . . . and speaking of which — the lack of posts you've seen around here lately? I've been busy working on our brand spanking new website at GemelliPress.com: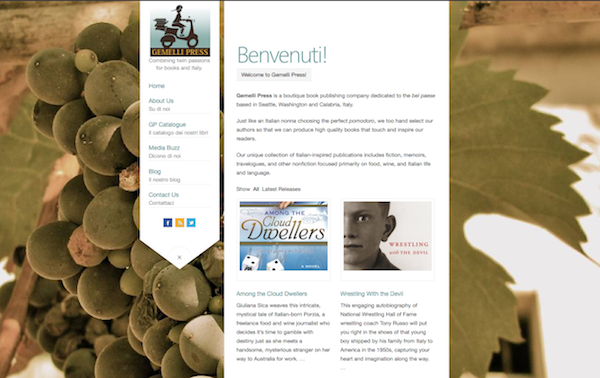 Please feel free to "like" us at the Gemelli Press Facebook page and follow on Twitter @gemellipress as well!
And while I have your attention: we have a new book that many of you will love — fate and destiny mixed with delicious gourmet food and wine. Tempting? It's called Among the Cloud Dwellers by Giuliana Sica and you can read more about it at the Gemelli Press site. Both paperback and Kindle versions are available (though remember, you don't need a Kindle to read Kindle versions)!
Another new release to look out for, available for pre-order now, is Wrestling With The Devil by Tonya Hamilton Russo and Tony Russo, the true story of a ten-year-old boy who traveled from Naples to NYC by ship, by himself in the 1950s and ended up becoming one of the finest high school wrestling coaches in the country. You *will* get hungry reading that one too, especially for a nice ragù. Don't say I didn't warn you.
So that's what's been going on around here, aside from my darling pregnant goat who scared me with a hugely swollen jaw, our annual pig slaughter that resulted in 100 kilos of pork on my kitchen table, and my having written more than 20,000 words in my work-in-progress novel. Whee! Up, up, up!
How is your 2012 going so far?
76 Beans of Wisdom to "Announcing My Latest Up-Venture: Gemelli Press, LLC"
---