On the journey toward calmness and peace and living with purpose, we've talked about mindfulness and clearing out the mind's cobwebs and clutter, but we haven't touched on the importance of physical movement. Let's not pussyfoot around this:
In order to properly care for your whole self, you must move.
I'm inspired to explore this concept by the Self-Care Retreat, a project by my friend Valerie of City|Life|Eats and Cheryl of Gluten Free Goddess. For this week's topic of "movement," Valerie wrote about her relationship with yoga practice. It spoke to me as yoga and I definitely haven't always been on the same floor mat. We've had our ups and downs over the years, but now we're closer than ever, and I feel better than ever.
And I don't think that's a coincidence.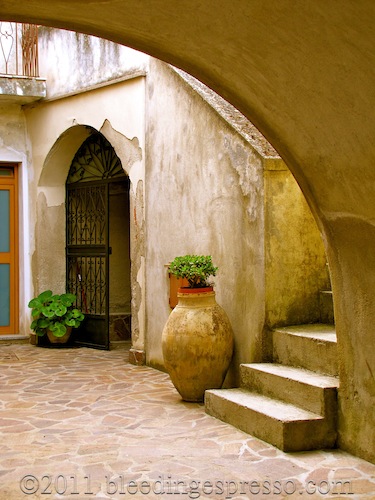 So let me go back and start at the beginning of our time together. I signed up for a yoga class during my senior year in college before "downward-facing dog"  and "namaste" became pop culture buzzwords. To be perfectly honest, I did it mostly to get an easy half a credit toward graduation, and it ended up being more of a fun diversion with friends than anything else.
My teacher was . . . unique. He was knowledgeable, kind, helpful, and never condescending, but the best part about him was his "Buddha smile," which he encouraged us to put on in order to bring some calmness to our thoughts.
The smile thing was lost on me, though, as yoga for me at that time was all about the physical movement — the "non-exercise exercise" as Valerie puts it — perfect someone who's not exactly wired to run 10 miles (or even one) unless being chased.
I simply wasn't ready for the meditation or spiritual benefits just yet, but yoga didn't mind. It still graciously offered me all the physical bonuses of the practice, such as suddenly not having weak wrists any more (thank you downward-facing dog!). Lower back pain also disappeared, largely because my teacher taught me how to *stand* properly.
Yes, you read that correctly.
Apparently most of us, when we're just told to stand normally, lock our knees. Go ahead, stand up as if you were waiting in line somewhere, arms comfortably at your sides, not leaning on one leg or the other. If your knees are locked, you're putting undue pressure on your lower back, so your assignment is to unlock those knees, push your shoulders back, and let your thigh muscles do more of the work.
It's a strange and uncomfortable feeling at first, but with just a bit of practice, it becomes totally natural and second-nature — trust me, your lower back will thank you. And that's how yoga creeps into your life.
Yoga poses make your body feel so good, it remembers them and gravitates to them whenever you need them.
Prime example: over the years, I wasn't practicing yoga regularly, but some mornings, at breaks from the computer, and certainly in quiet corners of the law school, I found myself doing a nice standing forward bend to stretch out my lower back, the eagle pose to get the tension out of my upper back and shoulders, and figure-eight neck rotations to loosen those muscles.
Then a few years ago, I picked up Thich Nhat Hanh's The Miracle of Mindfulness, which I've mentioned here before. In the book, Nhat Hanh writes about donning the "half smile" of Buddha in order to "relax the worry-tightened muscles in your face," and I remembered my yoga teacher's "Buddha Smile. Immediately things started to click. I began to realize just how many yoga principles sunk in and have stayed with me over the years — from three-part breathing to the various poses that I'd still break into whenever the mood struck, i.e., when my mind and/or body called out for them.
Since then, I've been much more disciplined in my practice, practicing yoga more regularly and increasingly benefiting from the calming, meditative aspects of it as well.
Now, not even a long bubble bath soothes me as much as a yoga session after a rough day.
If you're interested in pursuing yoga, I do recommend taking a class so an experienced instructor can show you the poses and align your body the proper way so you know you're doing them correctly; if that's not possible, please do plenty of research on the poses so you know exactly where body parts are supposed to be — and where they're not. And I should also throw in the standard disclaimer about checking with your doctor before beginning any exercise program.
Once you've got the basics down, though, yoga is a wonderful activity you can do on your own, on your own time, absolutely anywhere, even if you don't delve too deeply into the mental benefits just yet. Believe me, I know it's challenging to feel relaxed and at ease when you're not even sure where your left foot goes in a given pose. But stick with it, dedicate yourself to the practice, and you will be rewarded.
If you happen to be Catholic and wonder about the intersection of Catholicism and yoga, please have a look at my friend Mary DeTurris Poust's excellent piece on this: Stretching Toward God: Do Yoga and Catholicism Mix?
If you're into iPhone/iPod apps, I can highly recommend both Yoga Relax and Yoga Stretch; I've made my own routines in each app and alternate between them depending on my yoga purpose on a given day. LOVE.
And finally, remember that Valerie and Cheryl are running the Self-Care Retreat all month long according to the following schedule:
Movement – July 2

Reflection, meditation and mindfulness – July 9

Food – July 16

Family/friends/pets – July 23

Creativity – July 30
Do you practice yoga? What is your relationship with yoga like?
Please feel free to share your favorite yoga resources and links in the comments!
26 Beans of Wisdom to "Aligning Mind and Body Through Yoga Practice"
---