In Calabria, some days you go to the market. On other days you're innocently typing away on your computer when you hear the cry of "Formaggio formaggio formaggio paesanoooo!" outside.
On those days, the market has come to you. So you grab your wallet and camera (no need for keys — you can just leave those in the lock in the front door), and head outside to see your choices.
Here was the selection yesterday morning: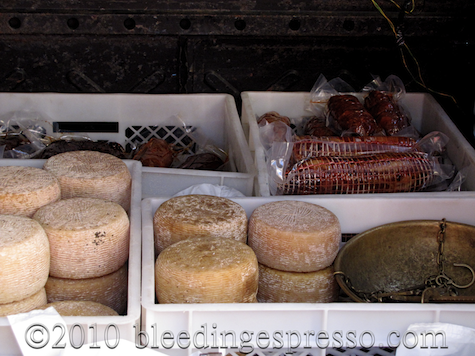 This is all homemade and handmade locally by the seller and his wife.
Here he is weighing my capocollo and pancetta: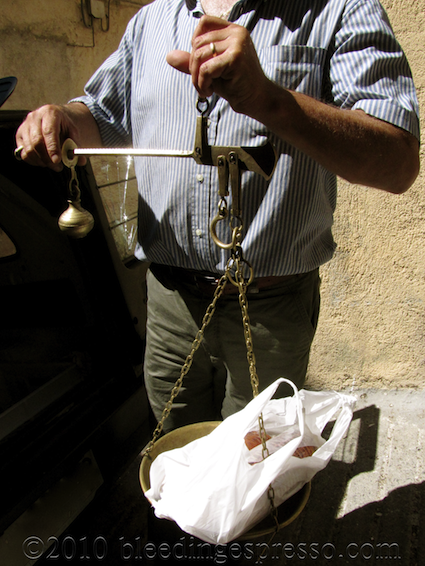 Yes, I decided to splurge and get pecorino, capocollo, and pancetta. Paolo and his friends have been working hard in our campagna (which means they need food up there every day) and most of his family is also around this month, so it's good to have reserves in the house for drop-ins.
Homemade "paesano" salumi and cheese doesn't come cheap, but it's worth every centesimo. Still, the guy could sense my reluctance to part with my euros (may have been due to my price-haggling), so he threw in a big chunk of 'nduja for free. You can see it a bit in the upper left of this photo:
What's that? You're not familiar with 'nduja (ahn-DOO-ya)? Guess I'll have to write a blog post about it, but for now, suffice it to say that it's a Calabrian treasure  — an uber-spicy, spreadable sausage that works well on everything from bruschetta to pasta.
And if you want a refresher course on the differences between pancetta, capocollo, our beloved suppressata, and more, check out Vince Scordo's Guide to Cured Italian Meats: Salumi.
How would you enjoy the pecorino and salumi I picked up at the traveling market?
27 Beans of Wisdom to "Calabria Traveling Market: Buying Pecorino, Capocollo, 'Nduja, and Pancetta from the Back of a Car"
---