One of our summer staples around here is the Caprese Salad, but sometimes you just want something you can hold in your hand . . . enter the panino caprese.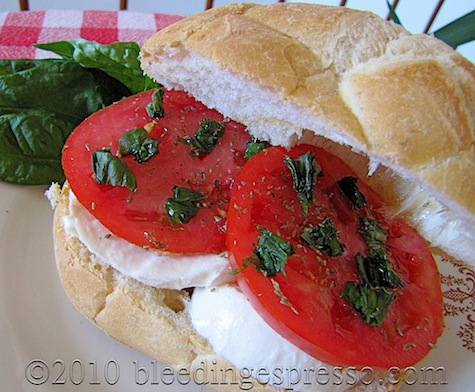 As with many Italian dishes, the quality of ingredients in this week's What's Cooking Wednesday is extremely important, so you should use the best tomatoes (homegrown off the vine), mozzarella (di bufala) and olive oil (extra virgin) you can find. Basil, oregano, and salt round out the ingredients.
I like to put some olive oil on each inside of the bun to start, but you can assemble this any way you like. I do sliced mozzarella first, then sliced tomatoes, then basil, oregano, and salt — with another drizzle of olive oil over the tomatoes to finish it off.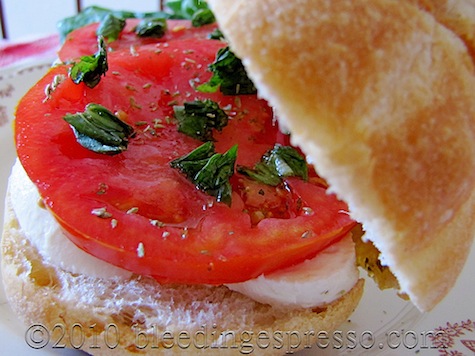 Remember, "panino" in Italy just means a sandwich — it can be on any kind of bread or roll and certainly doesn't need to be pressed in a grill. That said, you are more than welcome to heat up your panino caprese as that's tasty as well.
And if you want to whip up some focaccia seasoned with olive oil and oregano (even thyme, yum!) for this sandwich, you won't be disappointed; indeed, the first time I had one of these, it was at Dean & Deluca in New York City. Love at first bite doesn't begin to describe it.
Buon appetito!
22 Beans of Wisdom to "Panino Caprese: Tomato, Mozzarella, and Basil Sandwich"
---