For all you Italy, wine, and book lovers out there, I'm pleased to present an excerpt from Matthew Gavin Frank's new book BAROLO, a memoir about Frank's illegal work in the Piemontese Italian food and wine industry.
I've been hankering to get myself to Piemonte ever since "meeting" Diana of Creative Structures and the Baur B&B, and Frank's book may be just what I need to hold myself over until I can get there.
The following piece originally appears, in slightly different form, in the food-and-wine memoir, BAROLO (The University of Nebraska Press, 2010), by Matthew Gavin Frank.
Coming to Temperature
I run my hand over my hair, spitting rain as cracked carbonation, and make for the indoors. The indoors takes the form of Alba, Italy's Caffé Calissano, its cream awnings and shrub-lined exterior nearly kissing the orange stones of the Duomo.
Soon, I am drying off at a mother-of-pearl cafe table, my snifter of rosolio reflecting its oval pinkness in the white-tiled ceiling, as if assuring itself of its own existence before I pour it down my throat. This liqueur, which I've found only in Italy's Piedmont, wears its rose-oil roots proudly in both smell and taste.
I sip and, petal-tongued, watch two raindrops race down Calissano's window. I bet on the one on the right. It has a fatter bottom. It wins. Behind the window-rain, a helmetless boy passes on a rickety moped, disappears around the Duomo's hip. Then, an elderly woman in a red plastic kerchief limps past grasping an armful of rolled bathmats to her chest.
If Alba is a body, I can't tell if I'm the artificial heart or a virus. It exists around me, with me, despite me. It includes a young waitress, twentysomething, curly brown hair, green butterfly barrettes, who sets a small white plate of meat and mushrooms in front of me. She has a full face and short fingers. I didn't order this.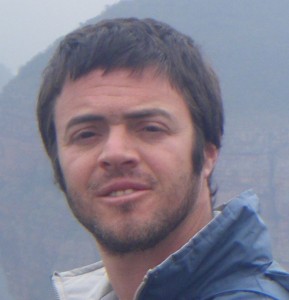 "Um," I say, "Io no…uh…"
"You are American, yes?" she says in a voice steeped as if in rosolio.
"I wear it like an overcoat, huh?"
"Aah," she says, dismissing my ridiculousness, this is salami with the, uh, truffle, and the porcini in the, uh, vinegar."
"Truffled salami?" I say on an inhale, my words sputtering as if spoken through a floor fan on high.
"Yes, this here," she says, the face of her left pointer hovering dove-wise over the plate.
"And these…" I say, sniffing the dome smell of delicacy eight inches above the table, "Pickled porcinis?"
"Yes.  Uh, you can not have a drink and, uh, not have something to eat. This is a rule."
"Really? Just here, or in all of Italy?"
"Oh, everywhere."
"Well, these are the best bar snacks I've ever seen," I say, "This is a good law."
She laughs, I think, because she feels she should.
"Mille grazie," I say.
"Prego," she says and returns to the masses.
Northern Italy is a region of wine and chandeliers and I sit as if in a crib, beneath yet another dangling mobile of crystal, shedding a gauzy orange light. I imagine that Piemontese writers Beppe Fenoglio and Cesare Pavese often sat beneath Calissano's chandeliers with other local artists, eating, drinking, forging World War II's partisan movement before playing bocce ball in the piazza.
Now, the Cinzano mirrors reflect the mostly businesses-suited patrons and waitstaff, clad in tuxedo shirts, loose bowties, black pants and black aprons.
The bar, stretching the length of the north wall, is patrolled by a young blond man, forever pacing its expanse, playing guard to the thousands of light-spitting bottles, filled with elixirs of red, white, clear, green, rose, yellow. The ceiling's thick white tile is carved with oak leaves and wine grapes, fish flanks, and the occasional seraph.  Calissano indeed seems a museum-turned-cafe and the staff roves among its tables so cleanly as if curators, no, sculptures come to life. Their hands and feet trace the nooks and bottles of their region.
I know, mouth now greased with truffle salami, cheeks now aglow with a post-porcini sting, that this is going to be my place in Alba. For the first time since arriving in Italy nearly a month ago, I'm infected with a sense of home. Uncommonly warm, I raise my snifter to an especially chubby ceiling angel, swear I see it wink, and swallow the thick last. At the bar, the young blond man rolls a raw porcini mushroom to the center of a wooden cutting board and hacks it in half with a meat cleaver.  Even split, its stem is as thick as an arm.
Interested in more? Check out BAROLO for yourself!
7 Beans of Wisdom to "Excerpt from BAROLO by Matthew Gavin Frank"
---