As you know, we've had gorgeous peas from the garden around here lately. One day, we wanted to eat peas but also something a bit more substantial, so P said, "Well can you just put some pasta in with the peas?"
Of course, amore mio, and I came up with this — now one of our favorite meals, especially for lunch in warm weather. It's so very simple and delicious, and even great cold as a salad IMHO. Feel free to add whatever you like, including pancetta. Yum.
Pasta e Piselli
(Pasta with Peas)
(serves 2)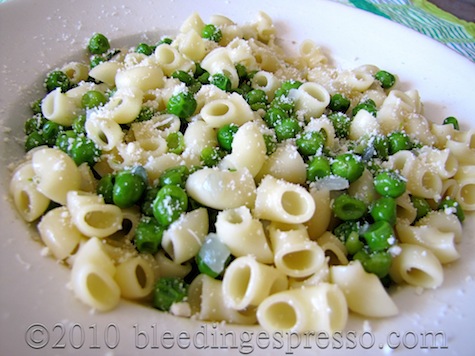 2 tablespoons olive oil
1 small red onion, chopped
250 grams of shelled (or frozen) peas — canned wouldn't be great in this
1/4 cup water
250 grams of short or even soup pasta like lumachine (similar to elbow macaroni in the US)
Salt
Freshly grated parmigiano
1. In a medium pan, saute onion in olive oil over medium heat.
2. Add peas and water to pan, and let cook until tender (depends on peas, but can take anywhere from ten minutes and up), adding salt to taste along the way.
3. When the peas are nearing done, put on water for pasta and when it comes to a boil, add salt and prepare pasta.
4. Strain pasta and add to pan with peas and toss together well.
5. Add a drizzle of fresh olive oil and top with lots of freshly grated parmigiano.
Buon appetito!
19 Beans of Wisdom to "What's Cooking Wednesday: Pasta with Peas"
---