We're enjoying absolutely gorgeous weather here today in the toe of the boot, which often means a quick, cold lunch like this one:
Prosciutto Crudo e Melone and a pseudo-Caprese Salad — this time with oregano because I didn't have any basil, but hey oregano is still green, so the whole "colors of the Italian flag" thing still works.
Grab a chunk of Italian bread and a glass of red wine and head out onto the balcony, and all is right with the world…especially now that the old palazzo of Baron Paparo across the street from us is being freed of its scaffolding (previously attached to our house, for the past 10 years!).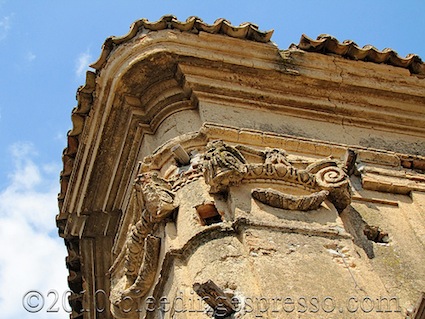 I'll be following up on this palazzo, by the way, taking some photos, posting them here, and hopefully sparking interest in wealthy investors who would like to help us (the town) restore the palazzo to its former grandeur. The first time I walked inside, I felt like I was in a scene from Titanic, when you see the ship underwater but then it magically transforms into what it *used* to be…. *le sigh*
In the meantime, if you know of anyone who might be interested, let me know! I know it would mean the scaffolding would have to go back up, but it would be *so* worth it.
Hope you're enjoying your weekend too!
14 Beans of Wisdom to "Prosciutto e Melone, Caprese Salad, and Palazzo Paparo"
---