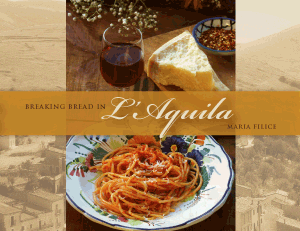 Are you on the edge of your seats wondering who will win a copy of Breaking Bread in L'Aquila by Maria Filice? Well you'll have to wait just a wee bit longer . . . you can enter the drawing until Thursday, May 20th at 11:59 p.m. CET and then I'll announce the winner on the Bleeding Espresso Facebook page and also tweet it via @michellefabio (and contact the winner, of course).
P.S. Remember to also join in the contest over at She Who Blogs, where you can read an interview with me *and* enter to a win a signed copy of Mary Amabile Palmer's Cucina di Calabria!
For now, I'm going to share my adaptation of another of Maria's wonderful recipes; last week was the recipe for the best crostini ever and this week we're playing with cauliflower.
I don't know about you, but I love cauliflower . . . I just get so *bored* with how to make it. And please don't tell me to mash it up like potatoes. P will barely eat mashed potatoes as it is; I'm not about to risk losing our twice a year mashed potato splurge because of a cauliflower dish gone wrong. Anyone who has cooked for a picky eater knows where I'm coming from on this, right?
Needless to say, I was excited when I saw Maria's "Cavolfiori al Forno" recipe for baked cauliflower. Fast, easy, delicious, and pretty darn healthy to boot . . . just like we like it around here!
Cavolfiori al Forno – Baked Cauliflower
from Breaking Bread in L'Aquila by Maria Filice
(as adapted by me)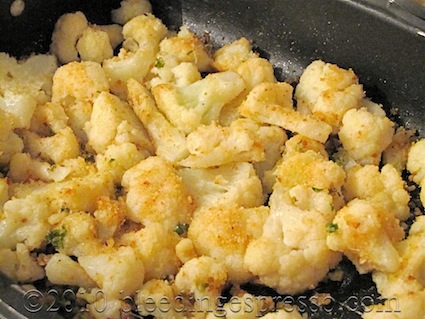 1 large cauliflower, cut into florets
Salt for blanching cauliflower
1 clove garlic, cut into two or three pieces*
1/4 cup of unseasoned bread crumbs**
Chopped parsley to taste
1/2 to 3/4 cup of freshly grated parmigiano cheese
3 tablespoons olive oil
Salt and black pepper to taste
1. Preheat oven to 375°F (190°C).
2. Fill a large pot about halfway with water and bring to a boil.
3. Add two tablespoons of salt and cauliflower. Boil for 5 minutes and remove cauliflower with a slotted spoon.
4. While the cauliflower is boiling, prepare a bowl with the garlic and olive oil. Add the cauliflower and mix to cover it, then transfer the cauliflower (leaving the garlic behind) to a baking dish.
5. In a small bowl, combine bread crumbs, parsley, and cheese. Spread evenly over cauliflower and season with salt and pepper to taste.
6. Bake uncovered for about 8 minutes; remove and move around cauliflower a bit. Bake for another 8 minutes or so, or until golden. Serve warm.
Buon appetito!
* The original recipe calls for minced garlic, but I found this to be a little too garlicky for my taste, so I left the garlic in bigger pieces for us the next time and really enjoyed it. Feel free to experiment.
** I think you could also go seasoned, or alternately, add a little onion and garlic powder (instead of adding the garlic) ala my veal cutlets. I'm going to try this next time.
14 Beans of Wisdom to "Cavolfiori al Forno – Baked Cauliflower"
---