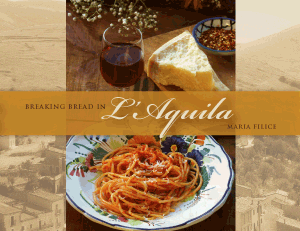 Maria Filice's Breaking Bread in L'Aquila is a product of love — love for her late husband Paul Piccone, of his native city L'Aquila in Abruzzo (yes, the same one that was devastated by an earthquake last year), of her own Calabrian heritage (Marie's parents were born in Cosenza), and of delicious, simply prepared Italian food.
Marie graciously shares this amore with us, and indeed, is donating net proceeds of the book to the continuing relief efforts in Abruzzo and is also appearing in Santo Stefano di Sessanio, Abruzzo this Saturday, May 15, if you're in the neighborhood!
The layout of this hardcover book is gorgeous with the recipes on the left side and full-color photos on the right — for each and every recipe. And the organization is unique as well: recipes are divided into menus that include antipasti (appetizers), primi piatti (usually pasta), secondi piatti (meat), contorni (vegetables), and dolci (desserts) for each day of the week; if you have a special dinner coming up, you can just open up Maria's book and have a menu all set. Perfetto!
Many of Maria's 50 or so recipes are classics like aglio olio peperoncino and bruschetta, but there are also some that were new to both Paolo and me. On my first run through, I made a note of at least five different recipes to try immediately with things we already had in the house.
In case you don't realize, that's pretty darn impressive for a southern Italian cookbook in a southern Italian house.
Speaking of items we had on hand, Maria also includes the "Pantry Page" with a checklist of things you should always keep handy. That stocked pantry is one of the most important parts of true Italian cooking, i.e., deciding what's for dinner based on what you have on hand, and even better, having it on the table within about an hour. *That* is an Italian art form, and Maria has captured its essence wonderfully.
Breaking Bread in L'Aquila would be an excellent addition to any cookbook collection as it is not only full of great recipes, it's simply a gorgeous book. Even if you don't cook, you'll enjoy the photos! And if you need a gift, particularly for someone with an interest in Italian and/or southern Italian cuisine, this is perfect.
I give this cookbook five extremely full espresso cups out of five; I couldn't recommend it more.
**THIS CONTEST IS OVER**
Maria is offering up a copy of Breaking Bread in L'Aquila to one lucky Bleeding Espresso reader. Just comment on this post by May 20, 2010 at 11:59 p.m. (CET) to enter.
Now, without further ado, Maria's recipe for Crostini with my slight adaptations; I am not exaggerating when I say I've made these at least once a week since I received Maria's book (on Paolo's specific request). We've had them as afternoon snacks and as dinner. They are so, so, so good — especially with a nice glass of red wine.
Crostini from Breaking Bread in L'Aquila by Maria Filice
(as adapted by me)
(serves 2)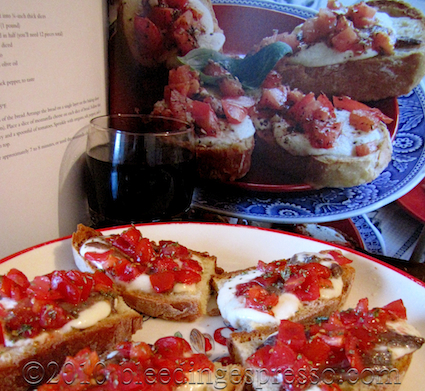 6 slices of Italian bread, about 1/4 inch thick
2 small to medium-sized balls of fresh mozzarella, sliced
6 anchovy fillets
2 medium tomatoes, diced
Handful of capers
1 tablespoon olive oil
Oregano and salt to taste
1. Preheat oven to 375°F (190°C).
2. In a small bowl, mix together tomatoes, olive oil, oregano, and salt. Let stand while you arrange the rest.
3. Arrange slices of bread in a single layer on a baking sheet.
4. Place a slice or two of mozzarella on the bread so that you cover most of it.
5. Put an anchovy fillet on each slice of bread (more if you like anchovies like we do!).
6. Add some capers to each slice (I put three or four on each slice — we like capers too).
7. Cover the slices with the tomato mixture. I've found a fork actually works better than a spoon for this; you don't want a whole lot of liquid making it onto the crostini as it'll make the bread soggy.
8. Sprinkle with more oregano.
9. Bake in the oven for about 7 or 8 minutes, or until cheese melts.
10. Serve immediately, preferably with a glass of red wine.
Buon appetito!
77 Beans of Wisdom to "Best Crostini Recipe Ever + Breaking Bread in L'Aquila"
---