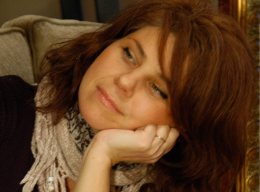 The other day I got a wonderful comment on an old post about my village, Badolato, and was introduced to what is sure to be a new friend.
Liana Sofia Tumino is an Italian-Canadian fresco painter who not only has amazing southern Italian scenes in her repertoire, she also has the video below, which I'm calling "A Fresco Painter's Love Letter to Calabria."
Because it very much is.
You see Liana Sofia also has deep roots in Calabria, and she has been painting scenes from this gorgeous land for nearly 20 years.
As Liana Sofia wrote in her comment:
My mother and grandmother are from Ferruzzano…I think it must be close in proximity to Badolato and so beautiful as all of Calabria is! I look forward to following this blog and admire your ability to move back…perhaps reversing in a small way the exodus you spoke about that has left so many villages in various stages of abandonment. For this reason I have been painting Calabria for over 17 years in fresco with love and passion for a place that I hold very dear…this summer I created a short video called "My Italy" . . . that showcases the beauty of this place so many love but as you mentioned, perhaps they only return to once a year in August…please watch it as I know you will enjoy it and share it with those that would like another "taste" of Calabria and its beauty!
I will warn you, the beauty of this video made me cry, and I live here and see very similar sights every day. Just a gorgeous work of art, this film . . . I know you will enjoy.
Please do visit Liana Sofia at her website,
LianaSofia.com
, check out her frescoes, and say hello (she also has a blog there).
Happy Love Thursday everyone!
23 Beans of Wisdom to "A Fresco Painter's Love Letter to Calabria"
---