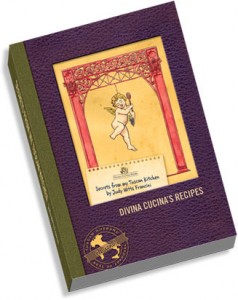 My friend Judy Witts Francini kindly sent me a copy of her handcrafted cookbook, Secrets from My Tuscan Kitchen, and has even more kindly offered to give a lucky Bleeding Espresso reader a chance to win a copy as well.
To enter the random drawing, all you need to do is comment on this post by 11:59 pm (CET) on Tuesday, March 30, 2010.
Trust me, you're going to love this cookbook. Not only is it absolutely full of tasty recipes from appetizers to desserts, Judy's cookbook is also aesthetically pleasing and a cook's best friend with each page facing the recipes blank so you can add your own notes.
If you don't know, Italian cooking is very regional, i.e., what you'll find in Calabria, you probably won't find in Piemonte, and vice versa. So for those of you who want to get a great taste of what eating in Tuscany is like, you must see Judy's cookbook, which is based on her own experiences of living in the region for nearly 30 years, particularly as influenced by her Tuscan mother-in-law.
You can read more about Judy's cookbook and how you can order your own at Judy's website, Divina Cucina. You can also keep up with Judy at her blog Over a Tuscan Stove and on Twitter @divinacucina.
Of course I wanted to share a recipe with you as I shared Judy's book this What's Cooking Wednesday, so I chose something I knew that would be a big hit here. Judy has two recipes for peas in the book, one with pancetta (Piselli alla Fiorentina) and the other with cooked ham (Piselli al Prosciutto); I actually ended up combining the two recipes to adjust for what I had handy (ran out of garlic!), but what I made was closer to Piselli alla Fiorentina, so here you go.
Ah, also, I did leave out the sugar, as P freaks out when he tastes sugar. The peas were definitely sweet enough, and this dish was delicious…and talk about easy peasy! Sorry, couldn't resist.
Piselli alla Fiorentina
1 lb peas
2 oz pancetta, cubed
1 clove garlic, sliced
2 tbs chopped parsley
1 tbs sugar
Salt
8 tbs olive oil
1. Place peas, garlic, parsley and olive oil in a saucepan. Add salt to taste.
2. Add enough water to cover peas.
3. Cook over low heat, covered.
4. Just before the peas are done, add the pancetta and sugar. Serve with their sauce.
Buon appetito!
Remember to comment for your chance to a win a copy of Judy's cookbook!
98 Beans of Wisdom to "Peas with Pancetta Plus Divina Cucina's Secrets from a Tuscan Kitchen Cookbook"
---