A little while back on Facebook, I lamented that I had broken the lid to my sugar bowl and couldn't find another with a slot for the spoon.
Diana of Creative Structures and the Baur B&B in Piemonte, one of my dearest friends made virtually, responded by making and sending me a sugar bowl — and throwing in an antique spoon and handmade candlestick holder and candle for good measure.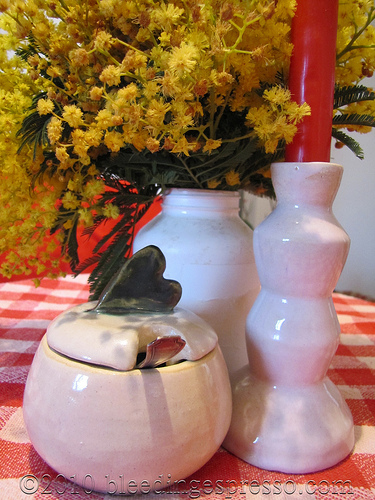 (The mimosa were from P for International Women's Day on March 8.)
Anyone who has hung around the blogosphere has likely experienced the joy of finding a kindred spirit, someone who always manages to say the right thing when you need it, a person who inspires you by just living her life and letting you share a little a piece of it virtually, and perhaps even in person if time and money allow.
I've been extra lucky. I've found several such people, and I think of them whenever I read that Internet friendships aren't real or as valuable as "real life" relationships.
Please.
Friendships are what *you* make of them whether you see the other person every day, once a year, or never. It is up to us how much we let others into our hearts; the physical distance between us doesn't get a say.
Happy Love Thursday everyone, and
may you have many wonderful friendships to nurture.
29 Beans of Wisdom to "Love Thursday: Honoring Virtual Friendships"
---