After compiling my part of the World Nutella Day round up and finishing some work assignments early in the week, I decided to enjoy the sunshine this afternoon and spend some time with my girls (of the caprine persuasion).
I never would have imagined how calming and reassuring just being in the presence of these goats can be. It's really hard to be worried or stressed about anything when these sweet faces are looking back at you.
*
Right now I'm reading Goat Song: A Seasonal Life, A Short History of Herding, and the Art of Making Cheese by Brad Kessler (recommended by a reader and native of Calabria, just down the road from me; grazie mille Anthony!).
Kessler describes the connection with nature, history, and yourself that raising goats provides, noting that throughout time, goats have been the subjects of many legends and stories, always "helping humans or leading them to unexpected places."
"If you follow living beings assiduously in the field, or through the lens of a microscope," writes Kessler, "they lead you to an understanding of their lives, and all life. They usher you into a kind of Eden."
*
Margherita and Carmelina usually don't care *too* much if I'm in there with them–they often come to say hello and then just go back to eating, unless they're not hungry, in which case they'll stay for petties for a few minutes.
But my Pasqualina, who you might remember, I bottlefed, rarely leaves my side when I'm in the pen, even when I'm clearly disturbing her nap time.
There's just nothing like goat zen in the goat pen.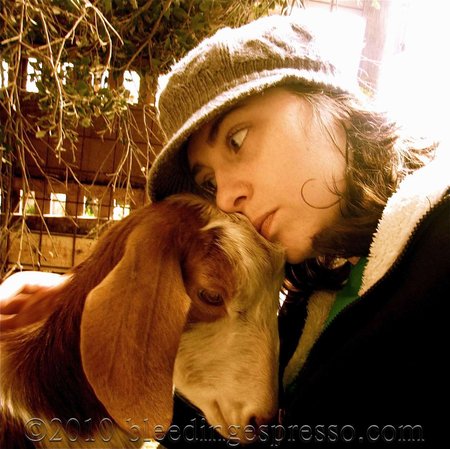 29 Beans of Wisdom to "Goat Zen in the Goat Pen"
---