Please welcome the lovely Tina of Tina Tangos for her thoughts on being authentic: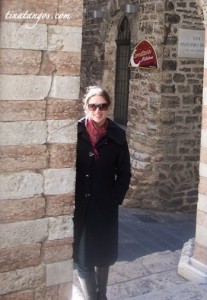 This is my fourth time being an "expat," and my second time living in Italy.  My first time living abroad, I was an au pair in Switzerland.  I was 24 at the time, and I did it not only because I had always wanted to live abroad and wanted a different experience, but I also did it because I envisioned myself at dinner parties as a "grown-up" later in life, smugly saying, "When I lived in Europe…"
During my time in Switzerland, I had the chance to visit Italy several times.  I fell in love with the streets, the architecture, the food.  What fascinated me the most was the way people dressed and carried themselves when they walked, and the fact that their daily lives took place on this very soil.  I wanted to live in Italy and I wanted to be one of those people.
Upon my return to the United States, I wore interesting scarves and pointy-toed high-heeled shoes and never left the house without my sunglasses.  I would play Italian pop music on my Discman (yes, those were the pre-iPod days) and strut down the street as though I were in Rome and not Seattle.
Finally, in 2006, I got a student visa and went off to Perugia.  On one hand, I flourished in a lot of ways and my Italian went through the roof. I felt free and whole. On the other hand, I was so impatient to mold the experience into how I had fantasized it would be, that I made a bit of a fool of myself, and it even affected some personal relationships.
Due to a matter of the heart, I ran away to Argentina.  Living in Buenos Aires is what finally did it.  It's a tough, huge city where people have their own problems to worry about and aren't concerned with you.  I learned a lot about just doing what I needed to do, and I fell into Argentina's daily life.
That's when my Italian citizenship was finally processed.  It's also when my life fell apart in Argentina. My heart broke.  Everything broke (even my bedroom door – it just fell off!)  It's also when a relative offered to buy me a one-way ticket to Rome.  It seemed like all the signs were pointing me back to Italy.  So, I went with the current, and here I am, in Perugia again.
I've been here almost two months, as an Italian.  I realized the other day that it's already the best and most authentic living-abroad experience I've had yet.  And not just for the obvious reason of being able to legally stay here forever (which does help).
Why then?  Because I didn't force it to happen – it happened for me when I stopped swimming upstream.  Not only that, after all that living, and after my Argentinean experience, I simply couldn't care less about fitting in.  I am who I am, and I'm proud of my experiences.  My Italian has changed – I have developed a strange accent, I accidentally say Spanish words, and I forget to use "lei" instead of "tu" in appropriate situations – and people still embrace me.
It's great to assimilate into a culture, and I highly recommend that you do – but I've learned that it's also important to just be who you are, even if it isn't the "norm" in your adopted country.  The more authentic you are, the more your new home will embrace you.
Tina Ferrari is a translator, tango dancer and part-time writer based in Perugia, Italy.  She writes at AffordableCallingCards.net, where you can buy affordable calling cards to Italy, as well as on her own blog, Tina Tangos. Comments are always welcome!
6 Beans of Wisdom to "Tina Tangos: On Being Authentic"
---