Last year I told you about 5 Ways to Raise Ovarian Cancer Awareness through Jewelry, and one of those ways was by purchasing a bracelet from the Ovarian Cancer Awareness collection of Angela Moore, who by the way you can now find on Facebook.
Well this year I'm letting you know that Angela Moore has *many* more Ovarian Cancer awareness pieces–and 15% of proceeds from their purchase go to the Ovarian Cancer Research Fund ALL YEAR LONG.
So while it's great that you show your support for ovarian cancer awareness this month, you can also bookmark the site and head back for holiday and birthday gifts as well.
Here are some of this year's selections with prices below their images: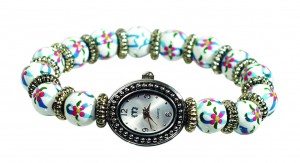 $67.95
$22.50
$10.80
$27.00
All Angela Moore creations are hand-painted and one of a kind, so in addition to supporting a great cause, you're also getting a gorgeous, original piece of jewelry that you're sure to receive many compliments on–which, of course, offers you a great opportunity to spread the message about ovarian cancer (feel free to memorize the facts from the OCRF in the O Foods Contest announcement)!
I'm loving that pendant. Which is your favorite?
And, ahem, have you made your O Foods recipe yet or posted the announcement?
4 Beans of Wisdom to "Angela Moore Jewelry for Ovarian Cancer Awareness"
---