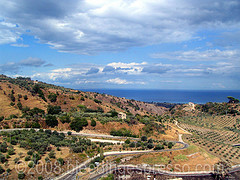 William the Englishman (or l'Inglese as he was called in the village) had a house in Badolato with an "orgasmic view" of the Ionian Sea, as he called it. He came to stay here every year from April to October.
*
During the early years (we both arrived in the village around 2003), we were the only two English speakers, so we'd meet for cappuccino in the piazza before William took the bus down to the beach. Along the way he'd stop to chat with just about everyone, trying out his ever-improving Italian, helped by the years he had spent as a bar owner in Spain.
William always joked that everyone knew him, but he most certainly didn't know everyone. The young children on the bus especially enjoyed him as they relished the chance to practice their school-learned English.
I always felt like a surrogate daughter for William, whose own precious girl was about my age back in London. When William's house needed "a woman's touch" as he put it, I helped him pick out dishes and other little accents. Every couple weeks, I'd set up his cell phone ring tones, phonebook, and other settings he'd somehow managed to change. Paolo and I even had him over for a very impromptu Easter dinner one year.
William called me "the Unamerican American" because I had what he considered a rare curiosity about the world and desire to live abroad–Unamerican for an American, according to William. And he never did quite understand how I was able to work via Internet in this mountaintop village and actually make a living; I must have tried to explain it a hundred times.
Lest you think he was anti-American, though, William always rang me on Thanksgiving and was always sure to pay for my cappuccino on the 4th of July.
*
Soon after William bought his house here in Badolato, he was the victim of a hit-and-run back in London, and although he survived, he did so just barely. He suddenly had a long physical and emotional road to recovery ahead of him–not made any easier by all the steep hills and steps in Badolato.
And so, William considered selling his beloved casa with its "orgasmic view," but I got the feeling that was never going to happen. He just loved his piccolo paradiso (little paradise), as he called it, too much.
*
In 2008, William died in a house fire in his flat in London. Paolo had gotten word when I was away on a trip, but he waited until I got back to tell me.
At that moment, on my balcony looking out at that same orgasmic view of the Ionian (my house was on the same side of the mountain as William's, only higher up), all the memories of William came flooding back, bringing mostly smiles and, admittedly, also quite a few tears.
Then came an overwhelming sadness with the realization that not only would we never have cappuccino again, but also our connection was completely gone. Even though I had heard many stories about William's family back in England, I had no contact information for anyone in his English life.
But then one day a few months ago, I opened up my email and saw what I knew to be his daughter's name in my inbox. She had found me through this blog, not even realizing that I knew her father, only that I was an English speaker who lived in this mysterious medieval village that William had loved so much.
*
I met William's daughter in person last week for the first time when she and her fiancé came to Badolato. She looks so much like her father and has precisely the same English sense of humor, or "humour" I suppose.
I know she was pleased to find out how many people enjoyed the company of l'Inglese, and that he didn't simply come here to live as a hermit. I introduced her to quite of few of William's acquaintances, each one saying he was "bravo" or "un grande amico" or something similar.

After initial thoughts of selling the house, she and her family have decided to keep it, rent it out, and otherwise offer it as a place of refuge from the real world for family and friends–much as her father used it when he was alive.
And I like to think that somewhere, William is smiling. His orgasmic view has been passed on to a new generation–and so have some of his friendships.
For William, "Tears in Heaven" by Eric Clapton,
the man he called his "God":
Happy Love Thursday everyone.
22 Beans of Wisdom to "Love Thursday: William's Orgasmic View Lives On"
---