Starting today and continuing until Friday, July 10,  we're celebrating the fact that lil' ole Calabria *finally* has a fabulous guidebook dedicated to her:
Travellers Calabria by Lara Dunston and Terry Carter
All this week, Lara will be here answering my questions and sharing Terry's and her gorgeous photos of bella Calabria.
If you want to start getting acquainted with this dynamic duo now:
Lara

describes herself as a "perpetual globetrotter (60+countries) travel writer (40+books, 100s stories for world's best publishers) living out of a suitcase since Jan 06"

on Twitter (follow @laradunston) and blogs at Cool Travel Guide.
Terry is "a travel and editorial photographer and travel writer. He literally lives out of a suitcase accompanied by a couple of bags of photography gear." Follow him @terencecarter on Twitter and read his blog at Wide angles, wine and wanderlust.
And you don't want to miss a single day of the Q and A with Travel Writer Lara Dunston. Why not?
Because I will be giving away a copy of Travellers Calabria every day–that's FIVE copies total.
Comment once on each post from Monday to Friday to be entered in the drawings; I will pick one winner from Monday's comments, one from Tuesday's, etc., and I will announce all the winners next Saturday. All comments must be entered by midnight CET on Friday, July 10.

For extra entries (one per day per person except as below), tweet or post about the contest on Facebook with a link to any one of the contest posts (although preferably this one since it will be the only one with all the rules) AND EMAIL ME TO LET ME KNOW at:

michellefabio5 (at) gmail (dot) com

I will enter your extra entry in the day in which you tweet/post appears, except for today; any tweets/posts today will be entered in the drawing that ends up with the fewest number of entries–which means you can get six extra entries if you tweet/post today and every day of the contest.

In the event you're lucky enough to win two (or more) copies, you will have the choice of accepting all your winnings or having me pick another winner.

Any questions–feel free to ask!
And what's a party without music?
Kicking things off is a new CD by my friend Mimmo's band, Marasà. You may remember Mimmo from our New Year's Eve celebration and discussion of the chitarra battente.
Well his band is back with their second CD, Sentéri: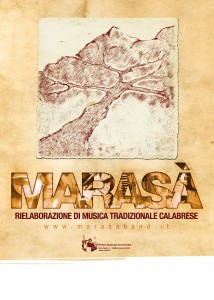 This is Calabrese folk music with a twist–a famous Italian rock star (who happens to have a house in Badolato Superiore) even guests on the CD.
The songs are sung in local dialect, but the liner notes have the lyrics in both Italian and Calabrese; if you're interested in a copy of the lyrics, let me know, and I'll send you the PDF.
Curious as to what it sounds like?
Head over to Offma, where you can also buy your own copy for 12 euros, or to Marasà's MySpace page, where you can listen to samples and also, for those of you who will be in southern Italy over next couple months, where you can catch them live in concert–they're kicking the summer tour off tonight right here in Badolato Superiore. Lucky us!
And, aw heck, since I'm feeling generous, I'll even give away a copy of the new Marasà CD to a lucky commenter. To be eligible, comment on THIS post by midnight CET on Friday, July 10.

Viva la Calabria!

32 Beans of Wisdom to "Kicking Off Travellers Calabria Week with Mimmo's Music"
---