Remember when I reviewed My Cousin the Saint by Justin Catanoso?
Well the paperback version comes out in a couple of days, and my review is quoted in the blurbs in the front of the book! How exciting!
Yes, if you follow me @michellefabio on Twitter or are my friend on Facebook, you already know this–and if you're not following or friending yet, come on over! Did you know I was also recently named one of 20 Interesting Expats to Follow on Twitter by Matador? I'm so honored!
Anyway, I *still* highly recommend Justin's book–this is a fabulous gift for an Italian, especially a Calabrian–so if you need a regalo, haven't gotten your copy yet, or were simply waiting for paperback, the release date is June 16, 2009; you can pre-order My Cousin the Saint: A Story of Love, Miracles, and an Italian Family Reunited here.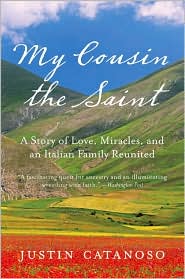 Don't you just love the new cover art?!
Buona domenica!
18 Beans of Wisdom to "My Cousin the Saint in Paperback–With My Blurb!"
---