Ricotta fresca (fresh ricotta) is one of my most favorite foods in the whole world.
Our kids Pasqualina and Margherita aren't old enough to breed and make milk yet, but I'm really looking forward to the day when we can make our own ricotta…because I'm pretty sure the only thing better than fresh ricotta is fresh ricotta made by your own two hands. I'll keep you posted!
One great way to enjoy fresh ricotta is spread on bread–especially if both are warm–and for this week's What's Cooking Wednesday, I'm sharing three of my other favorite ways to enjoy fresh ricotta:
*Breakfast of Campioni*
Ricotta, Strawberries, Bananas, and Honey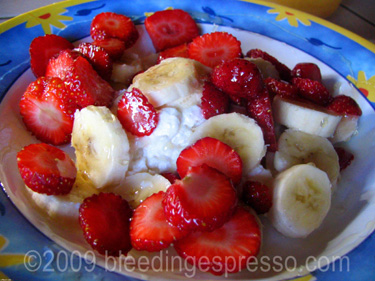 This is definitely one of my favorite spring treats. Feel free to use kiwi and other favorite fruits if you got 'em!
*Fast, Easy, Delicious Lunch or Dinner*
Spaghetti with Ricotta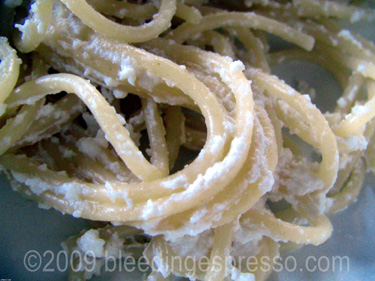 Sometimes also called Pasta alla Pastora (Shepherd's Style), all we do is toss cooked, salted pasta with fresh ricotta. You can add grated cheese, parsley, and hot pepper, but trust me, this is fabulous with just the ricotta.
*Scrumptious Dessert*
Gina DePalma's Ricotta Pound Cake
Remember when I made this a couple years ago? It's still one of my favorite cakes, and you can find the recipe here. Yum!
Have you had fresh ricotta?
What's your favorite way to enjoy it?
22 Beans of Wisdom to "What's Cooking Wednesday: Ricotta Fresca"
---