Today's What's Cooking Wednesday recipe is for those of you who think you have to go to a restaurant or buy the pre-packaged frozen version to enjoy fried mozzarella sticks. You don't!
All you need is some good, fresh mozzarella and the usual items for breading, and you're good to go.
What I made are actually disks not sticks, but that's because our mozzarella comes in small balls, so I thought it would be easier just to work with it rather than try to make sticks.
You're welcome to cut as you wish.
Fried Mozzarella Sticks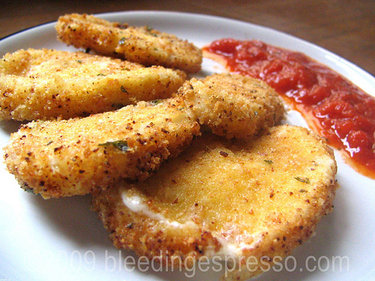 Mozzarella
Ingredients for breading listed in Breaded Veal Cutlets (see caveat below regarding measurements)

Olive oil for frying
1. To prepare the mozzarella, cut it into sticks or disks; you can also buy pre-prepared sticks for this.
2. Dredge the mozzarella first in flour before dipping in egg and then the breadcrumb mixture. Unless you're making a lot of mozzarella, you won't need as much of the ingredients as listed in the cutlet recipe, so just play around with the measurements a bit until you get the right mix for your taste.
3. Fry breaded mozzarella in hot olive oil or vegetable oil if you like. Put enough oil in the pan so the sticks are about half-submerged. Let them fry for about 15 seconds on each side and then put them on paper towels to drain.
Fried Mozzarella Sticks Dipping Sauce
1 tablespoon olive oil
1 clove garlic, cut into a few pieces
Small can of tomato sauce or canned tomatoes run through grinder
1/4 cup of water
Oregano
Salt and sugar to taste
1. Heat olive oil in small pan and then add garlic and saute for a minute or two, but don't let it brown.
2. Add tomato sauce and water.
3. Add oregano, salt, and a pinch of sugar if you like, which can cut the acidity of the tomatoes.
4. Let simmer for about 15 minutes, stirring occasionally.
5. Serve hot alongside fried mozzarella sticks.
Buon appetito!
17 Beans of Wisdom to "What's Cooking Wednesday: Fried Mozzarella Sticks and Dipping Sauce"
---