I have a huge sweet tooth, so it's not surprising that one of my favorite parts of Easter is the candy. More specifically, the candy my mom makes–especially the peanut butter eggs. Yum!
If you're starting to feel sorry for me because I'm not in the same country code as my mom and therefore can't enjoy her Easter candy, think again.
My mom continually sends me care packages, but around Easter, one always contains a special treat: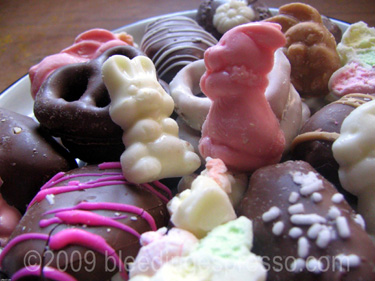 And I swear when I staged this photo, I wasn't trying to make it look like one bunny was offering his/her love to the other. But it does sort of look that way doesn't it?
Happy Love Thursday everyone!
When is the last time you received or sent a care package?
P.S. Happiest of birthdays to my mom (yesterday) and my sister-in-law (today)!
13 Beans of Wisdom to "Love Thursday: Somebunny Loves Me!"
---