You know we love Calabrian Stuffed Lasagne around here, but this week we have some extra love for an extra special lasagne, Lasagne Verde.
Emily of My Muffin Thursdays sent along this gorgeous heart of spinach pasta dough, which she made as part of The Daring Bakers' Challenge: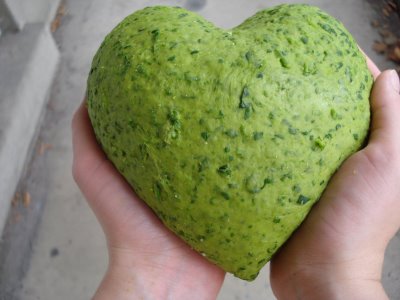 Aw, don't you just *heart* this photo?
Do go check out the finished product as well–it looks fabulous!
Have you ever made or eaten Lasagne Verde?
Happy Love Thursday everyone!
P.S. For those wondering what has happened to Cherrye's My Bella Vita, there are some technical details that she's working furiously on–don't worry, she'll be back as soon as possible!
10 Beans of Wisdom to "Love Thursday: Love in the Lasagne Verde"
---