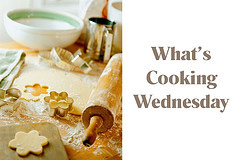 Are you someone who would never think of making your own chicken stock because it sounds way too Martha Stewarty, i.e., complicated?
Well this week's What's Cooking Wednesday is for you.
Making your own chicken stock is easy peasy, plus you'll feel like a star chef when you're done…and then you'll wonder why it took you so long to brave the task of making chicken stock. Seriously. *So* easy and delicious!
In the recipe below, I've listed that you need a chicken, but you actually don't. All you really need are the remains of a chicken with just a little bit of meat left on it, skins, whatever you'd normally discard from a chicken. If you've picked clean a rotisserie chicken, use that! It makes fabulous, already well-seasonsed stock.
Aside from the chicken, for great soup, I recommend *always* putting in onion and celery (whole or chopped, up to you), and then, well, whatever else you like and/or have available. This particular go-around, I added carrots and chard because that's what I had in my fridge, but you can add corn, peas, spinach, escarole, whatever you like.
Now yes, making homemade soup does take a bit of time, but it's not like you have to stand over the pot the entire time. Especially if the weather is still chilly where you are, may I recommend:
Homemade Chicken and Rice Soup
(about 6 bowls of soup)
1 small chicken
Cold water to cover the chicken
1/2 lb. chard, chopped coarsely
2 stalks celery, chopped or left whole
3 onions, left whole
2 carrots, sliced
Salt to taste
Ground black pepper to taste
1/4 cup rice per person
Grated parmesan cheese (optional)
1. Put chicken in a large stock pot and cover it with cold water. Cook on medium to high heat for about an hour and a half, periodically skimming off foam that surfaces.
2. Cook chard in salted, boiling water until it's soft.
3. Once the chicken is cooked, remove it from the water and let cool, and remove any remaining foam.
4. Add the celery, onions, carrots, salt, and pepper to the broth, and let cook for another half hour or until you start to see that the onions are getting mushy. Take out the biggest chunks, but if you like, take some of the mushiest and chop them very finely to throw back in.
5. In the meantime, clean off the chicken and put the meat back into pot, discarding bones and skin.
6. Add chard to broth.
7. Cook rice either in broth or separately.
8. Serve with grated cheese if you like (I do).
Buon appetito!
Now, for broth beginners, are you going to try this or what? And for you experts, do you have any chicken stock tips to share?
19 Beans of Wisdom to "What's Cooking Wednesday: Homemade Chicken and Rice Soup"
---