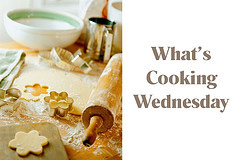 This week's What's Cooking Wednesday is an old *and* new family favorite. My grandmother used to make it all the time, and now P and I make it quite often as well.
Calabrian Scrambled Eggs are definitely one of my all-time fast and filling dishes–and it can also be great for using up leftovers. This is a fab dish for singletons as well as you can easily make just enough for one person.
Now you may be asking yourself: Self, what exactly makes these scrambled eggs Calabrian?
It's the supressata*, silly: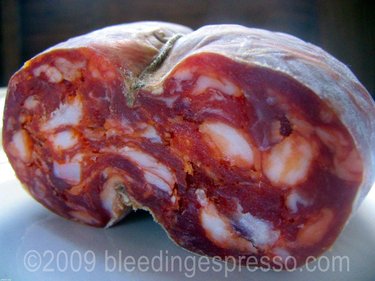 You can, of course, substitute with any kind of meat you like from sausage to ham to mortadella (bologna), and it will be just as tasty. Only a bit less Calabrian is all.
And in case you don't already, I hope you think of scrambled eggs in the same way as you would an omelet…anything goes. That is, if you like it and think it will go nicely with eggs, have at it!
Calabrian Scrambled Eggs
Uova strapazzate alla Calabrese
(serves two)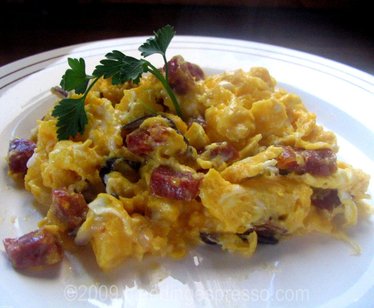 Two tablespoons olive oil
One small onion, sliced
About a handful of cubed supressata (probably about 100 g)
4 eggs
Splash of milk
Two pinches of salt
One slice of meltable cheese (Sottilette in Italy)
1. Heat oil over medium in a nonstick pan and add onion and supressata. Let them fry for a few minutes until the onions soften and the meat starts to release its juices.
2. In the meantime, break eggs into a bowl, add milk and salt, and beat together well.
3. Pour egg mixture into pan and add cheese in small pieces.
4. Move eggs around as they cook to get that patented scrambled look; they're ready when they've set and are no longer runny.
5. Serve hot, and if you're like us, with crusty Italian bread and a nice tomato salad. Yum!
Buon appetito!
*Alternatively known as sopressata, soppressata, suppressata, and "soupies" back in the Anthracite Coal Region.

20 Beans of Wisdom to "What's Cooking Wednesday: Calabrian Scrambled Eggs"
---