Welcome to the final day of Freelance Writing Week! So far we've covered: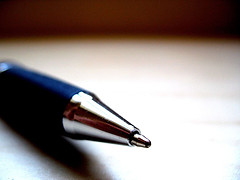 Now it's time to talk about two other ways you can find freelance writing jobs: job advertisements and cold calls.
* Job advertisements *
Another way to find freelance writing jobs is by scouring job advertisements. This is my preferred method, and it's the way I've had the most success. You're looking for jobs in your niche(s), and also those in your experience level and desired pay range.
Job ads may be looking for someone to write a specific piece or to become a regular writer; whether you or the editors will come up with story ideas varies by publication.
When responding to ads, you'll need something like a cover letter—although it may not really "cover" anything as many employers don't ask for resumes. Regarding resumes, I say don't send one unless it's requested; in fact, avoid sending attachments at all unless requested.
In your response, summarize the highlights of your resume in a three or four paragraph e-mail. My e-mails in response to job ads generally go like this:
1st paragraph: Tell them where I saw the ad and one sentence as to why I'm perfect for the job.

2nd and possibly 3rd paragraph: Specific qualifications for job (education, previous writing credits, organization memberships, other work experience).

Last paragraph: Thank them for their time and consideration, etc.
I recommend keeping this e-mail short and sweet—not so short that you don't explain why they should hire you, but not so long that the reader gets bored halfway through either. People hiring writers generally want someone who can say a lot in a short space, and the place to start proving you can do that is in your introductory e-mail.
My personal tip: if you have previous writing credits you think would help land the job, link to them even if they didn't ask for them; I firmly believe people are naturally click-curious when they see links. On that note, be sure to include links in your e-mail signature, even if it's only to your personal blog.
Some of my favorite online job sites:
I personally have never used paid services like Elance or Guru, but I have freelance friends who have and have enjoyed success with them–just be willing to dig for good clients, I'm told.
* Cold calls *
This is what I call letters (or, more likely e-mails) to publications offering to write for them. This is slightly different from query letters as you're pitching yourself in general as opposed to offering particular ideas, but they'll actually read pretty similarly.
For example, let's say that I come across a site selling property in Calabria that severely lacks information on the region. They aren't advertising for writers, and I don't know if they'd even hire any, but I think, "Hey, I wonder if they could use someone like me?"
So I whip off an e-mail explaining I'm a full-time freelance writer who has lived in Calabria for nearly six years and built a successful website largely based on my experiences here. I include links to a few of my best posts most tailored to their site, perhaps offer photographs, cross my fingers, and wait.
You probably won't see *huge* success with this method, but you never know, so why not give it a try?
This is yet another reason why I think aspiring freelance writers can benefit by having a blog—even if you don't have writing credits per se, at least you have something out there somewhere.
My writing career picked up significantly right around the time I started gaining blog readers; it could be merely a coincidence, a function of my confidence level rising, or maybe employers saw me as a more serious writer. Whatever it was, it worked, so I highly recommend it.
So now that I've led you to job sources, it's time to talk money, but we're out of time for Freelance Writing Week. We'll take a break from freelance writing tips next week, and the following week is Easter, which means special holiday posts. So right now it looks like Freelance Writing Week II will be April 13-17. Don't worry—I'll remind you!
What is your preferred method of finding freelance writing work?
Thanks so much for reading all week!
Buon weekend!

11 Beans of Wisdom to "Freelance Writing Week: How to Find Freelance Writing Jobs: Job Ads and Cold Calls"
---