Welcome to Day 3 of Freelance Writing Week! So far we've covered:
Now it's time to talk about how to find and develop your freelance writing niche.
But you may be asking yourself whether you really need a niche.
Look at this way: You're an editor looking for someone to write an technical article on iPhone applications. One applicant has a long list of writing credits about technology and the other has clips all about Hollywood gossip and fashion.
Sure it's entirely possible the gossip/fashion writer knows a lot about iPhone applications, but which writer would you go with?
That's why you need a niche.
You want to be *the* person an editor thinks of when an assignment in your niche comes up, and you also want your readers to trust what you're writing because, hey, you're an expert!
Now you don't need to focus so narrowly that you put yourself out of the running for many gigs, and you certainly don't need to stick with only one niche. Look at me, for example. I'm an attorney who lives in Italy. Right there that gives me two big possible niches:
1. Law/law school: I write for LegalZoom and am the About.com Guide to Law School.
2. Italy: I write for Italy Magazine, easyJet, and Italian Notebook.
I could also write about expat life if I so choose, although that's something I've really only touched on here at Bleeding Espresso. Hmm….
So that brings us to the first of:
5 Tips for How to Find and Develop Your Freelance Writing Niche
1. Make a list of words that define you.
Sounds kind of cryptic, but all I really mean are things you are or like to do such as "mom," "former cheerleader," "engineer," "cyclist," "antique dealer," etc. The old adage is "write what you know," and that's never more true than in narrowing down your freelance writing niches.
There are writers' markets for just about every niche you can imagine, so be as comprehensive as you can when listing your areas of expertise.
2. Make a list of things you're interested in learning more about.
OK, we're already straying from "write what you know," but I think this is worth exploring. Just because you're not an environmental scientist doesn't mean you can't write intelligently on the environment, right? You can learn more *and* get paid to do it as well.
See Tip #5 for more on how to become an expert on something you are only currently learning about.
3. Make a list of the  publications, websites, and blogs you like to read.
What do they talk about? Could you talk about it too? Chances are a lot of these topics will overlap with those in the first two lists you've made–that's a good thing because it means you've been researching your niches all this time and you didn't even realize it.
Also, be sure to keep this list as it'll come in handy when it's time for you to explore potential writing markets.
4. Find publications, websites, and blogs that focus on the topics you've listed so far and read them regularly.
The more informed you are about your niche, the better. Not only will you be up to date on the latest developments and information, you'll also get a feel for the way articles and posts are written in your niche.
For example, a beauty care tip blog most likely isn't written in the same way a political blog would be. Allow the different styles of writing to seep into your subconscious so it will be easier for you to write similar pieces later.
By now you're probably thinking, fine! Niche! Got it! Now when do we get to *write*? Right now.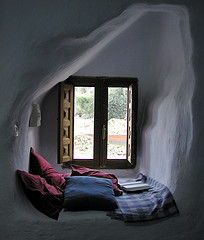 5. Start a blog.
Or, if the subject matter flows, start using your existing blog to start testing the waters of your niche. This is an especially useful tip if you don't have any writing credits in a particular niche or any writing credits at all. Brand spanking newbies, I'm talking to you!
For now, don't worry about readership (although that's a nice bonus). What you're really looking for is a platform in which to publish your writing to start getting you recognized as an expert in your niche; at the very least, you'll have somewhere to point potential employers when they want to see samples of your writing. I know many say they want "published" samples, but hey, published on your blog is better than nothing at all, isn't it?
Now this tip also works for more established freelance writers as well. If you're ready for a new niche but are having trouble breaking in, write about it on your blog.
For example, I've recently started the Going Green series here at Bleeding Espresso. I don't think I've published anything particularly "green" anywhere else, but now if I want to apply for, say, an environmental blogger position somewhere, at least I'd have something to back that up.
And in case you're wondering, yes, I *have* gotten job offers purely based on my blog (including one from Publishers Weekly that I couldn't do because they won't send books abroad…boo!), so never underestimate the power of a blog.
And hey, at the very least, through your blog, you'll be working on your writing skills–and that's never a bad thing.
OK, I think we're finally ready to go job hunting, don't you? Come back tomorrow for How to Find Freelance Writing Jobs!
If you haven't already, be sure to subscribe through an RSS feed so you don't miss a single Freelance Writing Week post.

Also free free to bookmark, Stumble, and share these posts with friends via email, your blog, and Twitter. The more people we have reading them, the more ideas and suggestions we can come up with in the comments. We freelance writers have to stick together!
What do you think your niche(s) are or might be?
15 Beans of Wisdom to "Freelance Writing Week: 5 Tips for How to Find and Develop Your Freelance Writing Niche"
---