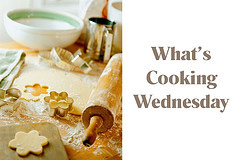 I've always loved the combination of steak and mushrooms. It's so hearty and the flavors just marry so well, don't they?
This week's What's Cooking Wednesday is a very simple, delicious dish that can easily be served over rice or even with pasta (we'll serve pasta with anything here), but we tend to eat it as a main course with fresh bread.
Steak and Porcini Mushrooms
3 tablespoons olive oil
1 small onion, diced
2 cloves of garlic, peeled and quartered
4 thin steaks, cut into strips or bite-sized pieces
1 small package (20 grams) of dried porcini mushrooms
handful of fresh parsley, chopped
salt to taste
1. Reconstitute mushrooms by placing in water for about a half hour. Drain and save liquid just in case you need it again.
2. Heat olive oil and then add onions and garlic, sauteeing until onions are translucent. Don't let garlic brown.
3. Add steak and cook until just brown, about 2-3 minutes.
4. Add mushrooms and parsley and cook for another 2 minutes or so. If things look to dry, add just a bit of the mushroom liquid or even white wine, but the mushrooms usually provide enough moisture as they release their juices. Be sure to adjust for salt.
5. Serve hot with fresh bread or over rice or pasta.
Buon appetito!
14 Beans of Wisdom to "What's Cooking Wednesday: Steak and Porcini Mushrooms"
---