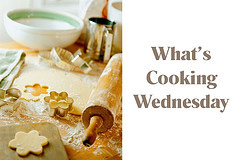 In going through old photos, I came across one of this dish, variations of which we make quite often in our house. Apparently I never posted it (the photo is from March 2007) so now it's finally time to share the recipe for What's Cooking Wednesday.
The seafood we used was frozen, so you can use this basic recipe with any combination of frozen seafood you like.
This is yet another really quick meal; don't you just love when you start the water for the pasta before you even start preparing the sauce?
Linguine with Shrimp and Mussels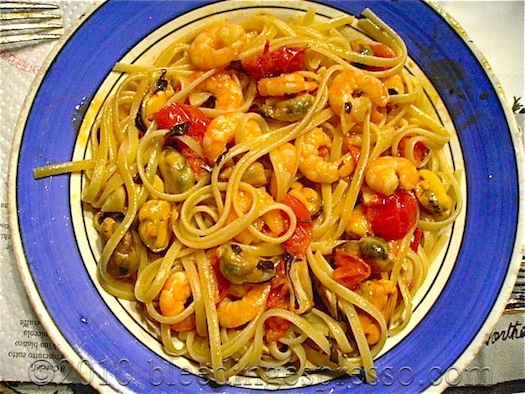 2 tablespoons olive oil
2 small cloves garlic
5-6 cherry tomatoes
1 package of frozen shrimp and mussels (or seafood of your choice)
1 small glass of white wine (or water)
Salt
Bunch of parsley, chopped
Linguine for two people
1. Put the water for the pasta on to boil, and prepare pasta when water is ready.
2. In a saucepan, heat oil and then add garlic, letting it cook for about a minute or so. Don't brown.
3. Cut tomatoes in half and add to pan, sprinkling a little salt over them; let them cook for two to three mintues.
4. Add frozen seafood and half the parsley, and let cook for another 2-3 minutes.
5. Add wine (or water).
6. When the liquid is reduced by about half, adjust for salt.
7. Toss well with linguine and serve with a sprinkling of fresh parsley.
Buon appetito!
23 Beans of Wisdom to "What's Cooking Wednesday: Linguine with Shrimp and Mussels"
---