Ah, Valentine's Day. As if you could escape knowledge of *that* little celebration in the middle of February, thankyouverymuch Hallmark et al.
Am I bah humbugging the day of San Valentino?
Well, maybe just a bit.
You *know* I'm all about the love (and, by the way, if you want to know why the heart symbolizes love, go here), but the commercialization of the holiday really irks me. I'm part of a couple now, but except for the past three Valentine's Days, I wasn't, and I remember those other 20-some February 14ths very well.
Sure, I always made it a point to celebrate and appreciate *all* kinds of love in my life on Valentine's Day (and I hope you do too!), but every now and again, some of the commercialism of the holiday would seep into my subconscious, and I'd just want someone to buy me chocolates dammit.
Ahem.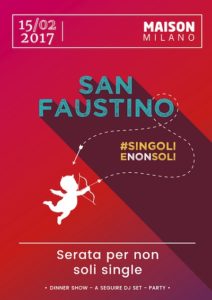 So I'm here to tell you what you singles can do this Valentine's Day:
Go buy your own chocolates. They really do taste just as good.
Save up your partying for February 15th—the feast day of San Faustino. 
Several years ago, a group of Italian singles decided it was time to celebrate singles–and also to address issues that adversely affect singles from paying higher taxes to difficulties adopting children.
So they chose the day after Saint Valentine's Day, the feast day of San Faustino, to celebrate single life.
As for P and me this Valentine's Day?
We'll be having a quiet evening at home making homemade pizza. Plenty romantic for me even though I know some onions are going to be on those pizzas.
Will you celebrate San Faustino's Day?

31 Beans of Wisdom to "Patron Saint of Singles: San Faustino"
---