Whether or not you celebrate il giorno di San Valentino, or Valentine's Day, you're probably seeing a lot of hearts around today. And flowers and chocolates and all kinds of traditional symbols of this day of love.
But why the heart?
Ancient Egyptians believed the heart (ib), rather than the brain, was the center of wisdom, emotions, memory, soul, and the key to the afterlife–and most of us know that "heartache" really does describe the pain of love lost–but the shape of the human heart really looks nothing like the heart shape that we all know today.
So where does it come from?
Well Tears for Fears came pretty close to the answer in 1989 when they sang about Sowing the Seeds of Love. Who knew?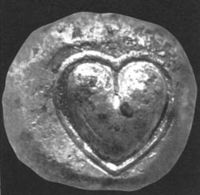 See the coin on the right? It's from Cyrene, an ancient Greek colony in what is now Libya, and depicts the seed pod of silphium, a member of the fennel family that is now extinct. The crop was extremely important to the Cyrenian economy–so much so that much of Cyrene's currency featured this plant believed by the Greeks to have been a gift from Apollo following a flood in 7 B.C.
Silphium was used in cooking and was also a kind of miracle herbal remedy for cough, sore throat, fever, indigestion, aches, pains, and more.
What does this have to do with the heart as a symbol of love?
Well, up until its extinction in the 2nd century, silphium was also the most effective herbal contraceptive. Soranus, the noted Roman gynecologist, advised women to drink silphium juice mixed with water every month because "it not only prevents conception but also destroys anything existing."
Could silphium have been the world's first morning-after pill?
We'll never know for sure since all subsequent attempts at growing silphium have failed, but it seems that the seed pod's image lives on, ironically perhaps, in our symbol of love–the heart.
Happy Valentine's Day and Happy Love Thursday!
39 Beans of Wisdom to "The Heart As Symbol for Love and Valentine's Day"
---