Starting today, I will be doing Going Green features every first Friday of the month. I know I'm not nearly as "green" as I should be, and I hope that by focusing on one issue a month, I will inspire both you and me to think a little more about everyday decisions we make that affect our planet.
Up first is a bit of information on cell phones. Are you in the market for a new cell phone and also concerned about the environment? Read on.
Choosing a New "Green" Cell Phone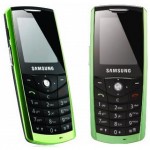 So the time has come to buy a new cell phone, but you still want to keep the environment in mind. Some of your best "green" cell phone choices are:
Samsung E200 Eco
Nokia 3110 Evolve
T700 Sony Ericsson
These are all made with eco-friendly materials, packaged in recyclable boxes and bio-plastic, which dissolves in water. The phones themselves even have "green" features, such as the Samsung's alarm that tells you when recharging is finished so you're not needlessly using electricity.
So, you have a new cell phone; now what should you do with the old one?
Recycle Your Old Cell Phone
Discarded electronic equipment, or "e-waste," has become one of the most serious threats to our environment. When cell phones are simply chucked in the garbage, lead, mercury, and cadmium leaked from them into landfills can become real environmental and health hazards.
If you're in the market for a new cell phone, first you should think about how you'll recycle your old one. Only a handful of US states require cell phone sellers to provide a free way for consumers to recycle used phones, so you may have to do your own homework; here is a short list of ways to recycle your old cell phone to get you started:
1. Recycle your cell phone through the manufacturer or seller. If your cell phone seller doesn't have a recycling program, the phone manufacturer probably does: AT&T, Sprint, Verizon, Apple, Motorola, Nokia, Samsung and T-Mobile all have cell phone recycling programs.
2. Give your cell phone to someone. Whether it's to your mother who has resisted cell phones up till now or to your young son who has been bugging you to buy him one, passing along your cell phone to someone else will lengthen its life for just a little while longer. Be sure to mention cell phone recycling to the recipient so she will consider responsibly disposing of the phone when she's done with it.
3. Donate your cell phone. Many charities accept old cell phones as donations including CellPhonesforSoldiers.com and The Support Network for Battered Women.
Find other organizations that accept old cell phones at Charitable Recycling. And why not organize your own cell phone recycling drive if you want to get further involved?
Have you recycled a cell phone?
Please feel free to leave more recycling and green cell phone ideas (including other organizations that accept cell phone donations) in the comments!
20 Beans of Wisdom to "Going Green: Green Cell Phones and Cell Phone Recycling"
---