Archive for the 'going green' Category
---
With all the talk of books lately (and more coming—I still have some more reviews I promised to publish!), I thought now would be a good time to tackle the concept of going green regarding books.
Here are some green tips, including ways to reuse and recycle books: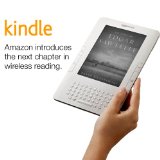 1. Read e-Books.
Probably the greenest course of action regarding books is to turn away from physical books all together.
You can download books directly to your computer or other reading device like Kindle from the Internet and save money as well as trees; to compare reading devices, check out eBook88.com.
Other online options for use without a reader include NetLibrary.com, Gutenberg.org, or DailyLit.com, which deliver books right to your inbox. And remember, you can share your downloaded copies, making this already green choice even more green.
But if you're like me and still enjoy the feel and smell of a real live book in your hands…
2. Take part in online book swaps or selling.
Over the last several years, the Internet has absolutely exploded with sites set up just so you can exchange or sell books.
Each system runs a little differently, so check out places like Bookmooch.com, TitleTrader.com, PaperBackSwap.com, Bookins.com, and Cash4books.net, and choose which you prefer.
3. Share with others—in person.
Before the Internet, there were always groups of like-minded people who enjoyed books and lent them to one another. Oprah started a craze with book clubs, but there's no reason you can't start a book-swapping club.
Ask around and you may find that your co-workers or fellow parents are interested in book swapping, which can also save you a good bit of money on books as well.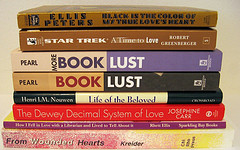 4. Share with others—anonymously.
Donate to your old books to your local library or used bookstore, where you'll likely also get credit on the purchase of other used books. Speaking of which….
5. Buy used books.
Many true booklovers can't throw away (but if you do, recycle!) books, so you can always find plenty of used books for sale at cheaper prices at used bookstores, thrift shops, garage sales, and library sales.
Another option is on Amazon.com; just below the Amazon information, you'll often find private sellers who have less expensive, used copies.
What are your green tips for booklovers?
P.S. I was recently named this month's judge of Scribbit's Write-Away Contest. The topic is FOOD, the deadline is Sunday, June 21st, and the prize is an ubercool picnic basket full of goodies. Get writing, and see full rules for submissions here.
---
---
---
---
---