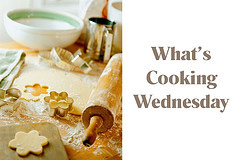 This week's What's Cooking Wednesday recipe is one of my all-time favorites from childhood, i.e., comfort food at its finest. It's so comforting that I made my mom make it while she was here in June, and this *so* isn't a warm weather dish.
In fact, Pork, Italian Green Beans, and Potatoes in Tomato Sauce is a great stick-to-your-ribs-meat-and-potatoes meal that you could even throw in a crock pot if you're a crock pot user.
And if you're not into the meat thing, I have a feeling this would still be pretty tasty without the pork and with more veggies thrown in.
If you can't get fresh beans, you can use canned green beans or string beans as well but they won't need to be cooked nearly as long.
I don't know of a snappier name than "Pork, Italian Green Beans, and Potatoes in Tomato Sauce" but since it so accurately represents the dish, I'm sticking with it.
Pork, Italian Green Beans, and Potatoes in Tomato Sauce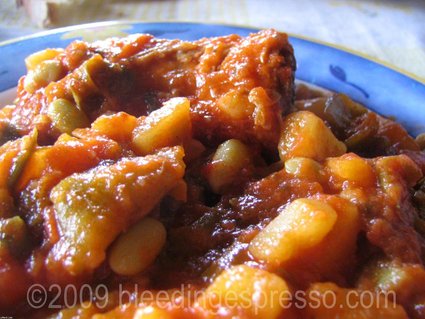 2 tablespoons olive oil
1 pound of pork ribs (or other cut on the bone)
1 medium onion, diced
2 garlic cloves, minced
1 large can and 1 small can of tomatoes
4 small potatoes, peeled and cut into bite-sized chunks
1 pound green beans, washed with ends snapped off
A few basil leaves
Salt to taste
1/4 cup grated parmesan cheese
1. Parboil beans by bringing water to a boil in a large pot and then adding the beans, letting them cook for about four minutes. Remove and set aside.
2. Heat oil in a saucepan and brown meat on all sides, remove from pan, and set aside. For great tips on browning meat (including why we do it), see Miss Vickie's How to Brown Meat.
3. Add onion and garlic and saute until translucent.
4. Add tomatoes.
5. Put meat back in the pan and add potatoes and green beans.
6. Add basil and salt.
7. Let simmer for an hour to an hour and a half until meat is cooked and tender.
8. Just a few minutes before you take the pan off the heat, add parmesan cheese and mix through.
9. Serve hot with fresh Italian bread.
Buon appetito!
17 Beans of Wisdom to "What's Cooking Wednesday: Pork, Italian Green Beans, and Potatoes in Tomato Sauce"
---