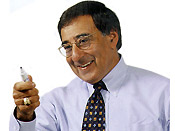 President-elect Obama recently named Leon Panetta, former Chief of Staff to President Bill Clinton, as the new Director of the Central Intelligence Agency (CIA).
Panetta, 70, is a former Congressman from California, prominent attorney, First Lieutenant in the US Army, and founder of the Panetta Institute, a nonpartisan public policy center that operates out of California State University.
But most importantly to us in southern Italy, he's Calabrese!
Panetta's parents were born in Calabria before they emigrated to the United States. His father worked in a copper mine in Wyoming before moving to Monterey, California (Panetta's hometown) and opening up a restaurant.
So how close is Panetta to his Calabrese roots?
He reportedly doesn't get back here as often as he'd like, but he does speak Calabrese according to his cousin Domenico Panetta, former mayor of Siderno, which is about 50 km from me.
Of course Panetta's nomination wasn't without its detractors, but things now seem to be going smoother on his road to lead la CIA (pronounced "CHEE-ah" in Italy by the way).
And here in Calabria, we couldn't be prouder. So in honor of Direttore Panetta, please join us in a traditional Calabrese tarantella:
Veniti tutti 'cca e 'mparativi abballari!
Capiscisti?
In bocca al lupo, cumpà!
Buon weekend a tutti!

20 Beans of Wisdom to "eh cumpà, auguri on that cia thing!"
---