Admit it.
You knew cookies were coming this What's Cooking Wednesday.
I won't be making the amount I did last year, but I can't let Christmas pass without a few types of cookies. Mom trained me well!
In fact, today's recipe's is my mom's, although she always makes "Peanut Butter Blossoms," which are peanut butter cookies with a Hershey's Kiss nestled in the center. I'll include those directions here as well for those who are interested, but since I didn't have any kisses (of the chocolate persuasion), I went with the old-fashioned peanut butter criss cross kind of cookie.
This is also my first of, I hope, two entries in Susan, the Food Blogga's Eat Christmas Cookies event. Last year I submitted Thumbprints, another *very* basic but delicious Christmas cookie.
What can I say? Christmas cookies aren't about fancy at our house; they're just about YUM.
See lots of other great recipes at Susan's Eat Christmas Cookies round-up here.
Mom's Peanut Butter Cookies
(makes about 10 dozen)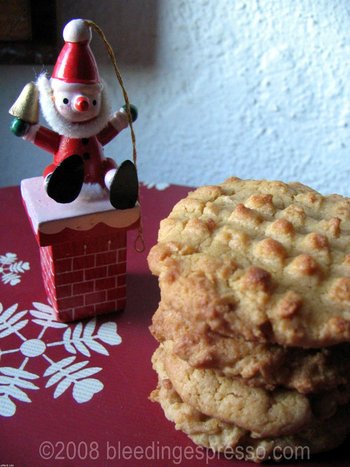 1/2 c shortening
1/2 c sugar
1/2 c brown sugar, firmly packed
1 egg, unbeaten
1 tsp vanilla
1/2 c peanut butter
1 3/4 c sifted flour
1 tsp baking soda
1/2 tsp salt
2 tbsp milk
1. Preheat oven to 350°F.
2. Mix shortening and sugars, and then add the egg and vanilla. Beat well.
3. Add in peanut butter. Blend well.
4. Add milk and mix in.
5. Mix together dry ingredients in a separate bowl. and add gradually to mixture. Mix well until a soft dough is formed. I do this last part by hand.
6. Pull off small chunks to roll into balls and then roll balls in sugar.
7. If you are making plain peanut butter cookies, put the balls on an ungreased cookie sheet and then flatten out with a fork, criss-crossing as shown in the photo. Bake for about 8-10 minutes, until cookies are lightly browning on top.
8. If you are making peanut butter blossoms, put the balls on an ungreased cookie sheet and bake for 8 minutes. Then remove and place a Hershey's Kiss on top of each cookie, pressing and twisting slightly so that the cookie cracks around the edges. Bake for another 2-3 minutes. Let sit until chocolate cools.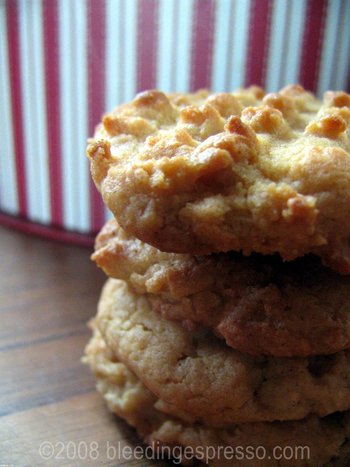 Buon appetito!
29 Beans of Wisdom to "Christmas Cookie Recipe: Peanut Butter Cookies"
---