Growing up in my Italian grandmother's house, we always had fish on Christmas Eve. We didn't do any particular number of fish, but since we weren't supposed to eat meat on Christmas Eve (until we went to Mass that evening!), my grandmother always made some kind of fish for dinner, usually around 4 p.m. After Mass we had ham, potato salad, pickles, olives, cheese, etc., but before Mass, always fish and/or seafood.
I don't *ever* remembering having baccalà (dried, salted cod), probably the most traditional Seven Fishes Christmas Eve fish there is, and I can only guess that's because some people in the house didn't like it.
Christmas Eve in Calabria
Fast forward many years and I'm in southern Italy for a Calabrian Christmas, all ready for the real, true Feast of the Seven Fishes (or 13 depending on what you've heard) — where it all began. And?
Niente. Seriously!
P's family doesn't even have a Christmas Eve dinner. In fact, our first Christmas Eve together we went out for pizza. I actually liked that and would've made it a tradition but then the pizzeria in the village closed.
So the following year I decided we'd do our own fish feast and make our own tradition. I believe that year we had fried shrimp and calamari and linguine with clams. Yum! We don't have a set menu every year, but last year we included baccalà, and we'll be including it from now on.
I rather enjoy the soaking of the fish and changing of the water in the days leading up to Christmas Eve; it makes for a nice ritual, increasing the anticipation of a delicious Vigilia di Natale dinner with each change of the water.
More on Baccalà
Baccalà is a very versatile fish and can be prepared many ways, including in the oven with potatoes, but our favorites are fried (baccalà fritto) and with tomatoes and pasta (baccalà con pomodori). Both are relatively fast (once you get the fish reconstituted, of course) and definitely easy and delicious.
If you want a more complicated batter for fried baccalà, check out Mario Batali's recipe for Fried Salt Cod, but the way we do it in Calabria is *very* basic, as are the measurements, which you'll have to adjust to your feast.
One small tip on baccalà before you begin? If it has a strong smell before cooking, you probably shouldn't use it. In fact, you should be able to put your nose right up to it and smell only a very faint fishy scent–that's when you know it's good to go.
Fried Baccalà / Baccalà Fritto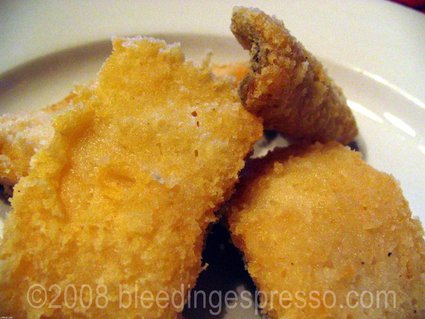 Baccalà
Flour
Salt
Pepper
Olive oil for frying
1. Rinse baccalà in cold water and then soak for 48 hours, changing the water three or four times.
2. Cut baccalà into smaller pieces about 4 inches long.
3. Heat oil in deep pan or deep fryer.
4. In a shallow bowl, mix together flour, salt, and pepper.
5. Dredge each piece of baccalà in the mixture, being sure to cover all sides well.
6. Add floured pieces to hot oil without crowding and fry until a light golden brown.
7. Remove from oil and place on paper towels for a few minutes.
8. Serve as is or with lemon.
Baccalà with tomatoes / Baccalà con pomodori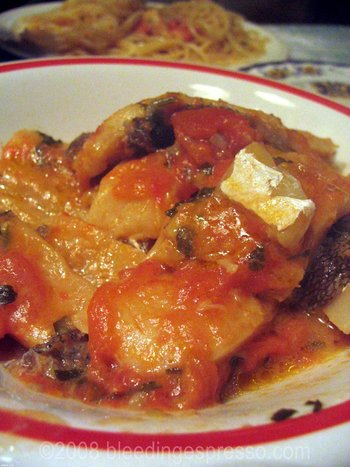 2 tablespoons olive oil
2 cloves garlic, peeled and cut in half
Handful of cherry or small tomatoes
Half glass of water or white wine
Baccalà
Handful of parsley
Salt to taste
Pasta of your choice (linguine is good)
1. Prepare baccalà as described above in steps 1 and 2.
2. Cut an "x" in the bottom of tomatoes and plunge into boiling water for a minute. Remove tomatoes from boiling water and put in a bowl of cold water. Once cooled a bit, remove skins (they'll fall off) and chop into smaller pieces for sauce.
3. Heat oil on medium in large pan and add garlic, frying until light golden brown.
4. Add tomatoes, water, and a bit of salt and let simmer for about five to ten minutes, until tomatoes are broken down a bit.
5. Add pieces of baccalà and parsley and let simmer for another half hour to 45 minutes until the baccalà is cooked (depends on how thick your pieces are).
6. Test for salt, and if you are serving with pasta, prepare pasta as usual.
7. Remove baccalà from pan to a serving bowl and then add cooked pasta to the pan and coat with sauce.
8. Serve a piece or two of baccalà on each serving of pasta or just leave the baccalà in a community bowl in the middle.
Buon appetito!
Will you be having fish this Christmas Eve?
37 Beans of Wisdom to "Fried Baccala' and Baccala' with Tomatoes"
---