One of the most traditionally American foods (and one of my personal favorites) to have around the holidays are Chocolate Chip Cookies.
I have many fond memories of leaving a plate of cookies for Santa (and carrots for Rudolph!), and there was always at least two chocolate chip cookies on there–they were Santa's favorite, I was told. My dad would film the whole thing with an old-fashioned video camera, a ridiculously bright light shining in my smiling eyes as I set the plate and a glass of milk on the bottom of the fireplace.
A couple years ago, my brother and sister-in-law had these movies put on DVDs, and what a great gift that was! I wish I knew how to put them online so you could see clips of mini-me and the cookies, but you'll just have to imagine it.
And now without further ado, the recipe direct from my mom's kitchen:
Chocolate Chip Cookies
(makes about 90 cookies)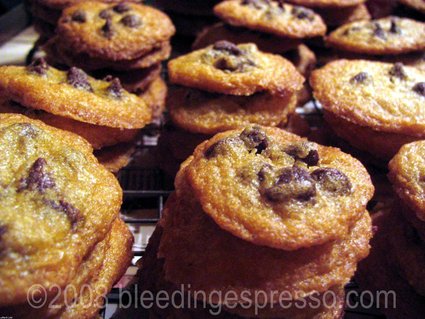 2 ¼ c flour
1 ½ tsp baking soda
1 tsp baking powder
1 tsp salt
1 c butter
1tsp vanilla
½ c sugar
1 c brown sugar
½ tsp water
3 small eggs
1 12 oz. package chocolate chips
1 c chopped walnuts (optional)
1. Preheat oven to 350°F.
2. Mix first four ingredients together.
3. In separate bowl cream together butter, sugar, water, and vanilla. Beat in eggs.
4. Add flour mixture and mix well.
5. Stir in chocolate chips and nuts if you're using them.
6. Drop by rounded teaspoonfuls onto greased cookie sheet.
7. Bake 10-12 minutes. Do not overbake; take out when just turning golden brown as they will continue to cook a bit after you take them out of the oven and if they're cooked too long they get quite hard (they are thin cookies).
8. Remove from sheets and put on cooling rack for a few minutes, if you can manage to wait.
Ricetta in italiano
290 g di farina
1 ½ cucchiaini di bicarbonato di soda
1 bustina di lievito per dolci con vaniglia
1 cucchiaino di sale
220 g di butter
105 g di zucchero
215 g di zucchero di canna (degli Stati Uniti or "solidal" di Coop)
½ cucchiaino di acqua
3 uova piccole
340 g di pepite di cioccolato
1. Preriscaldare il forno a 180°C.
2. Mescolate insieme i primi quattro ingredienti.
3. In una ciottola grande mescolate insieme il burro, gli zuccheri e l'acqua. Aggiungete le uova.
4. Aggiungete gli ingredienti secchi e mescolate bene.
5. Aggiungete le pepite di cioccolato.
6. Dal composto ottenuto, formate delle palline anche con un cucchiaino e mettetele leggermente su una piastra trattata con burro.
7. Infornare i biscotti per 10-12 minuti circa. I biscotti sono abbastanza sottile quindi state attenti che non diventano troppo dorati.
8. Lasciargli raffredare se ce la farete.
Buon appetito!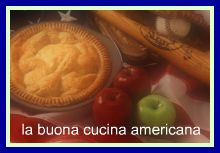 ***La Buona Cucina Americana will be taking some time off for the holidays–see you in 2009!***
26 Beans of Wisdom to "La Buona Cucina Americana: Chocolate Chip Cookies"
---