If you're still looking for special, unique holiday gift ideas, here are some suggestions, sold by some of my uber-talented blogging buddies:
*NATURAL HANDMADE SOAPS*
Saponissimo by Charlie of Figs and Lemons has gorgeous handmade natural soaps from the Amalfi Coast for sale at ridiculously affordable prices. You'll find ingredients like olive oil, honey and beeswax blended with the plants, fruits, and flowers of Positano. Pictured at left is Arancia e Limone (orange and lemon) soap. Can't you just smell that gorgeous citrus?
*JEWELRY*
Sara of Moving Right Along has some really gorgeous handmade pieces of jewelry at her Sara Arts Etsy shop. You may remember Sara from when I featured her here? One of my favorites in her collection is the one pictured at right, The Romantic Wrist, Hand-Knotted Bracelet of Peach Aventurine, Garnet, and Sterling on Silk. Too bad P doesn't read my blog….
*JEWELRY, BAGS, AND MORE*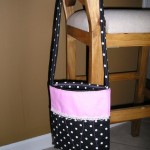 Diana of Adventuring through Life also runs an Etsy shop, hers with her sister, called Sorelle (sisters in Italian). They have a great collection of unique gifts from pendants to earrings to cute purses like the one here on the left, the Pretty in Pink Fairy Godmother Purse. And sales! Be sure to check out the store for discounts on earrings and pendants.
*BOOKS*
I just finished My Cousin the Saint: A Search for Faith, Family and Miracles by Justin Catanoso. Yes, you've heard about this book before here, but now that I've read it, I can tell you how much I *love* this book. I could relate to so many of Justin's experiences (not the saint in the family part though); I hope to write a fuller book review soon, but for now, just know that I highly, highly recommend it.
And staying in southern Italy, a book that I haven't yet seen in person but can't wait to read is In Etna's Shadow: Culinary Adventures from Eastern Sicily by Karen Landes, who also authors South of Rome. Eastern Sicily is just a ferry ride away from me, so I'll be interested to see how our cuisine compares and contrasts. Plus I love Italian culinary books in general, don't you?
Anyone else out there selling their creations online this year?
Do share links in the comments!
***Be sure to check out Cherrye's Texas Mud at My Bella Vita for this week's La Buona Cucina Americana recipe. I promise it tastes *much* better than it sounds! And remember you can still enter to win a copy of The Feast of the Seven Fishes!
18 Beans of Wisdom to "Holiday Gift Ideas: From Soap to Books"
---