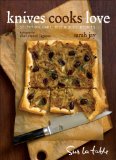 In lieu of What's Cooking Wednesday this week (come back Friday for my La Buona Cucina Americana recipe though!), I'm letting all of you cooks and wanna-be chefs know about a fabulous post and contest over at Jaden's Steamy Kitchen:
How to Sharpen Your Knives + Knives Giveaway
This post tells you everything you need to know about keeping your knives in perfect working order and also offers some great resources for finding out more.
And you want to talk about a great contest?
You can win a fabulous knife of your choice from the Phoenix or Fusionwood lines of New West KnifeWorks. I can't even begin to tell you how awesome these knives are, so please go have a look for yourselves.
To enter this contest all you have to do is pick your favorite knife and leave a comment on this post. That's it! And you can get another BONUS entry by stumbling, tweeting, or blogging about the contest. Ends November 30th.
———
Now, I have to tell you that P is the official knife sharpener in my house, as well he should be–his father was the village knife sharpener for many years (although he didn't act like this one that Shelley of Really Rome told you about). And my mom has generously sent us many fabulous knives to keep him busy; they're generally less expensive in the United States than here.
But one knife that isn't in our arsenal is something to cut the amazingly crusty Calabrian bread. The traditional way is like this (as demonstrated by P's mom):
But I'm not down with this. Can you guess why?
And so, I've picked this Fusionwood bread knife should my name be chosen:

Pretty, no?
So wish me luck, and I wish you luck as well!
Now head over to Jaden's Steamy Kitchen and comment!
17 Beans of Wisdom to "playing with knives: sharpening, honing, steeling, and a giveaway"
---