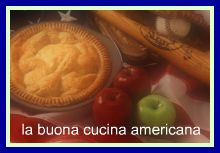 This week I turned to a tried and true recipe for this week's La Buona Cucina Americana entry –one I can now make without referring to the recipe since I've made it so often.
For those of you who have been around a while, you've already seen this recipe here, but now I'm reposting the ricetta in italiano so our amici italiani can try it too.
The original recipe comes from our resident Bagel Queen in Italy (La Regina dei Bagel), New Yorker Michelle of Michellanea, although I did slightly adjust the salt and sugar measurements for my taste.
Bagels
(makes eight large bagels)
250 ml warm water
30 g fresh yeast
2 tsp olive oil
2 tsp salt
3 tsp sugar
1 tsp honey
500 g flour
1. Dissolve yeast in 250 ml of warm water and add oil.
2. In large bowl, mix together salt, sugar, and flour. Make a well in the center and add in yeast mixture.
3. Mix together all ingredients, working in flour on the sides of the bowl in order to get an even mixture. Work dough into a ball.
4. Cover bowl with a damp towel for about 40 minutes and let dough rise in a warm place; it should double in size.
5. Put a piece of wax paper on the baking sheet you'll be using for the bagels.
6. Knead the dough for about 10 minutes. Divide into 8 little balls. Make a hole in the center of each ball and widen the opening until it begins to take the shape of a bagel.
7. Let the bagels sit on the warm towel for another 15 minutes while you heat the oven up to 390°F/200°C.
8. In the meantime, bring a large pan of water to a light boil and add honey. Let each bagel boil lightly for about two minutes on each side and then remove and put them back on the damp towel.
9. If you are adding sesame or poppy seeds, at this point, sprinkle them on a plate and press each bagel down lightly over them.
10. After about five minutes, put the bagels on the wax paper-covered baking sheet and place in oven for about 20 or 25 minutes until they are golden (but not too brown as they will get a bit browner after they've cooled), flipping them after about 10 minutes to ensure even baking.

I Bagel
(ingredienti per 8 bagel grandi)
Acqua tepida 250 ml
Lievito fresco 30 g
Olio 2 cucchiai
Sale 2 cucchiaini
Zucchero 3 cucchiaini
Miele 1 cucchiaino
Farina 500 g
1. Sciogliete il lievito in 250 ml d'acqua tiepida, quindi aggiungete l'olio.
2. In una ciotola unite il sale, lo zucchero e la farina. Fate una fontana nel centro e versatevi il lievito.
3. Lavorate gli ingredienti incorporando anche la farina rimasta sui lati della ciotola fino ad ottenere un impasto omogeneo. Formate la palla e lasciatela riposare nella ciotola.
4. Copritela con un straccio da cucina umido e fatela lievitare in un luogo caldo per 40 minuti finché raddoppierà di volume.
5. Preparate una piastra con della carta da forno.
6. Lavorate la pasta per 10 minuti, dividetelo in otto porzioni e con queste formate delle palline. Forate il centro di ogni pallina con il dito, quindi allargate l'apertura finché diventerà simile ad una ciambella.
7. Disponete i bagel su un straccio da cucina umido e lasciateli lievitare per 15 minuti. Preriscaldate il forno a 200°.
8. Nel frattempo, portate a leggera ebollizione una pentola d'acqua con 1 cucchiaino di miele e immergetevi i bagel, 2 minuti per lato, quindi adagiateli sul straccio da cucina umido.
9. Se volete aggiungere i semi di papavero o i semi di sesamo, dispone i semi in una teglia e poi premere i bagel leggermente sopra per attaccare i semi.
10. Lasciateli raffreddare per 5 minuti, e infornateli per 20/25 minuti fino a dorarli.
Grazie di nuovo a Michelle di Michellanea per la ricetta e per la maggiore parte della traduzione. Grazie mille anche a Sara di Ms Adventures in Italy per il suo aiuto!

24 Beans of Wisdom to "La Buona Cucina Americana: Bagels"
---